Whatsapp vs Telegram
We all know the most popular messaging application to be Whatsapp and the rival to be telegram which is indeed underrated and this hurts me a lot. Talking about whatsapp, we all know whatsapp is everywhere and most downloaded messaging app on Google play store with over 2billion downloads and damn, this is a big boost up if i must say.
Lets get more detailed information about Whatsapp and Telegram before I pour out my thoughts and why I feel telegram shouldn't be underrated and Whatsapp Overrated.
Before you continue reading, "kindly note that this post is in no way hating the other and liking the other." The post is a pure fact view of the both and can be justified with screenshots below each facts.
Talking about WHATSAPP::::
WhatsApp Messenger is a freeware, cross-platform messaging and Voice over IP service owned by Facebook, Inc. It allows users to send text messages and voice messages, make voice and video calls, and share images, documents, user locations, and other media. WIKIPEDIA
We know Whatsapp to be the most downloaded messaging app and that aside its cool that way. The fact whatsapp messenger still have lots to fit in the match between its rival Telegram is what definitely would take ages to make that dream come through.
Talking about Telegram::::
Telegram is one great Messaging application that is underrated and must be put into consideration just as it holds lots to offer in the future and for sure I must applaud Telegram, just as it seems to be more like a Google search to many.
Telegram is a cloud-based instant messaging and voice over IP service. Telegram client apps are available for Android, iOS, Windows Phone, Windows NT, macOS and Linux. Users can send messages and exchange photos, videos, stickers, audio and files of any type. Wikipedia
By the time we pen down all legit facts about the two messaging applications you'd choose which is worth been overrated.
An Edge Over Whatsapp:
Here are reason why I think telegram should be overrated and not otherwise.
Private (Privacy)
Telegram messages are heavily encrypted and can self-destruct. 100% security measures taken into consideration on telegram.
Cloud-Based
Telegram lets you access your messages from multiple devices. Like explained while reading further! You have all messages made available across multiple devices!
Fast
Telegram delivers messages faster than any other application. Even on 2g network, you get messages delivered in seconds♥️.
Distributed
Telegram servers are spread worldwide for security and speed. With the weakest data connection, Telegram fits in just right!
Open
Telegram has an open API and protocol free for everyone. You just have the power to do what you want, no limitations.
Free
Telegram is free forever. No ads. No subscription fees. 100% free from ads and totally data economical! Hope you know Whatsapp is coming up with ads on status come 2020? Would make out a full detailed post on this.
Secure
Telegram keeps your messages safe from hacker attacks. Heard recently or previously of hackers on telegram application before? Never Never Never!! Security conscious..
Powerful
Telegram has no limits on the size of your media and chats. 100% no limitation, send millions of images, Telegram doesn't care!

With telegram installed on your device you can do the following::
Coordinate
Coordinate
Create groups of up to 200,000 members. Just when you thought it was finished! You have a group and you get to accommodate over 200,000 members in the group unlike whatsapp which accepts just 257 members in a group.
Imagine having a team over 300+ and you go ahead creating more than one group just to fit in all your team members. The stress also in sharing managing two groups at same time.
Pretty much of a stress I must say!! Telegram made it very easy for you!
Channels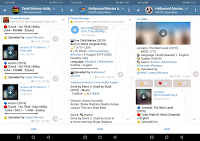 Channels
You can create channels that accepts over 2 million subscribers at once. Pretty mind blowing!!
Synchronize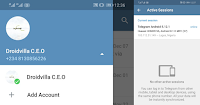 Synchronize
Synchronize your chats across all your devices. This is one great edge on telegram over whatsapp. Telegram lets you access your account on over 2 or more devices without being logged out on any. Meaning that you can login to telegram on your laptop, Android mobile, iPhone, Your friends phone and more at once without being logged out from any. Unlike whatsapp which lets you have access to your account on just a device only. Whenever you try login to whatsapp on a different device, you are automatically logged out from the other device.
Sending large documents upto 1.5gb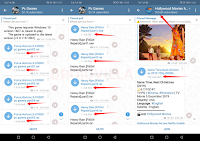 Send large files
Send documents of any type and files worth 1.5gig.
Ever thought of sending a huge file and you get stuck on whatsapp just because of its media size limitation. Telegram is definitely for you, where you have to send files, documents and more worths 1500mb (1.5gb) at a straight without being worried about errors.
Encrypt
Encrypt
personal and business secrets. Wanting to make a secret conversation with someone and you just don't want it casted and screenshots taken? Telegram helps encrypt that particular contact, which enables all conversations to be highly secured for you. No screenshots, screen record or whatsoever form!
Self-Destruct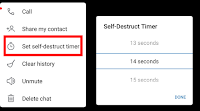 Self destruct
Destruct your messages with a timer. Ability to set destructive message!! Meaning that, you can set a message to be automatically destruct when it reaches the timer limit set by you. This is one great feature that I see as a thumbs up to telegram.
Store
Store cloud
your media in the cloud. You have all your medias stored on telegram cloud, meaning that all your medias can be accessed anywhere when ever you log on to your account on any device.
Build Tools (Bots)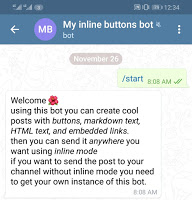 Build Tools
Build your own tools on our API. You have lots of tools on the app to get done with just what you want. Creating of bots and customization also.

Swipe to reply:
Just so we don't forget about the swipe to reply feature which was recently added to whatsapp and became a big deal for users, while telegram had that same feature for years.
Theme settings:
Theme settings
Telegram has inbuilt theme selections and customization, where users can tune the theme color of the app to their taste.
We have the dark theme, blue, red, white, and lots more theme option as seen in the image above.
Search Engine:
This is one very perfect feature I so much like about telegram. Just as you have any android application, movies, music, pc games, files, docs, pdf or anything you could think of to download, Telegram search is there for you.
You get to get matched results from global search and you get it downloaded and saved directly to your device. No stress or worries!
Search
Just as seen on the image above! By typing in a word to search (Naija Music) a global search result came out, I simply had to open the channel and searched for music I wanted (Joro) and boom I got it out and could be downloaded immediately and saved directly to your device Storage.
If you are a movie lover I guess telegram is just a home of movies, seasonal, Hollywood, bollywood, nollywood and animations, all available on telegram for download.
Music search
Movie search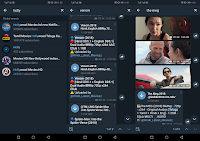 Animation search
As you can see in the image above, all Full HD movies available for download (The meg, Venom, Lion Heart) thousands more to search and download.
Voice call:
Telegram voice call is perfectly perfect with clear voice sounds!!
Bots
This is one special Unique integration to Telegram, Bots are a program based on AI and machine learning which can perform various tasks. We have bots like, an image bot which can get images from a name. There are many types of bots with Image bot, gif bot and sticker bot as few of the most popular ones. The most popular group admin bot which is Marie, which helps in keeping the group free for spammers!
Lots more features to keep you in shock. We shall be updating the list as telegram make waves.
Where can I download telegram?
Telegram can be downloaded directly from playstore HERE
With all facts and views dropped down, now lets come into realistic view and get the snake by its head and not tail. Which do you think is worth been at the top?
Don't forget to subscribe be to our newsletter for more exclusive update.