MTN NG Free 1GB
We have been looking for ways in making sure everyone gets free data offer by all means and obviously today we have gotten a way for everyone on MTN network to grab theirs.
Note: The MTN 1GB is free but sure, a task to get complete before you will be rewarded of the 1GB by MTN.
So without further ado, MTN is giving out free 1Gb when you simply refer a friend or family member to upgrade to 4G network.
Meaning that, whenever you refer a friend who haven't yet upgraded their 3G sims to 4G, you get free 1GB just like that.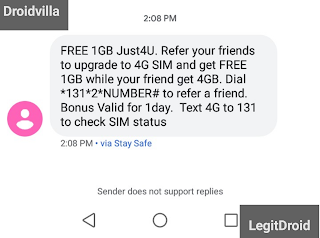 MTN NG
You may like this: Airtel Announces FREE SMS To Costumers & Free Access To Certain Sites Amidst COVID-19

The task is quite easy and simple, you don't need to visit the person or go about convincing people to get their 3G sims upgraded to 4G, you do it right from your android device.
Best part of the offer, your friend gets 4GB mouth watering worth of extra data immediately he or she hurrys up to make an upgrade of the sim.
Good deal right?

You might be wondering how then will you refer a friend or family member, but not to worry, we have always got everything covered.

How to refer a friend to upgrade to 4G Sim and get 1GB worth of data from MTN?
Referring is made easy, all you have to do is simply dial
*131*2*NUMBER#
To refer a friend.
Once that is done and the referral does an upgrade, you get a cut of your offer which is 1GB worth of data.
About this offer!
No limits to the number of referrals (The more you refer the more 1GB data you accumulate).
Everyone is qualified to take part on this one!
So what are you waiting for?
Hurry now! Before it closes.
Don't forget to share to friends, everyone needs data this period.


Do stay safe and join us on our telegram channel to get more updates as they drop!
T.me/droidvilla