You can bring back the sound of your Xiaomi device speaker with this 1 easy step to clear speaker xiaomi.
With the MIUI additional customization settings, you can swiftly clean the speaker of your xiaomi device.




By performing Clear Speaker on your xiaomi device, you can be sure to get back the solid speaker sound of your xiaomi device.
Why clear speaker xiaomi?
It is recommended to once in a while perform xiaomi clear speaker, to ensure the device maintains its original speaker quality while playing music, watching movies and the likes.
If you suspect low speaker performance while watching a movie with your xiaomi device or playing music, then the option to be certain your device is up and running, is to simply service the redmi device speaker by performing Clear Speaker.




Furthermore, if you suspect your device has been exposed to lots of dust lately, you can as well perform the Xiaomi Clear Speaker feature, which helps to service the speaker of the Xiaomi device by clearing off the dust with its unique inbuilt fan right in the speaker housing.
What Redmi device have the Clear Speaker feature?
This enticing xiaomi's functionality is present if not on all Xiaomi and Redmi phones with MIUI, giving we the users the opportunity to smart clean the speakers of our device.
Additionally, the clear speaker feature helps in removing any dust or water remains that is most likely to obstruct the sound of the Xiaomi speaker.




An impressive additional xiaomi utility. This feature is confirmed working flawlessly on the, Redmi Note 9, Redmi Note 9 pro, Redmi Note 8 Pro , Xiaomi Mi 10 and many more… You can as well check if this amazing clear speaker feature is available on your own Xiaomi Redmi Device.
How To clear speaker miui 12 (Redmi)
To clear xiaomi speaker, simply follow steps and image guide below.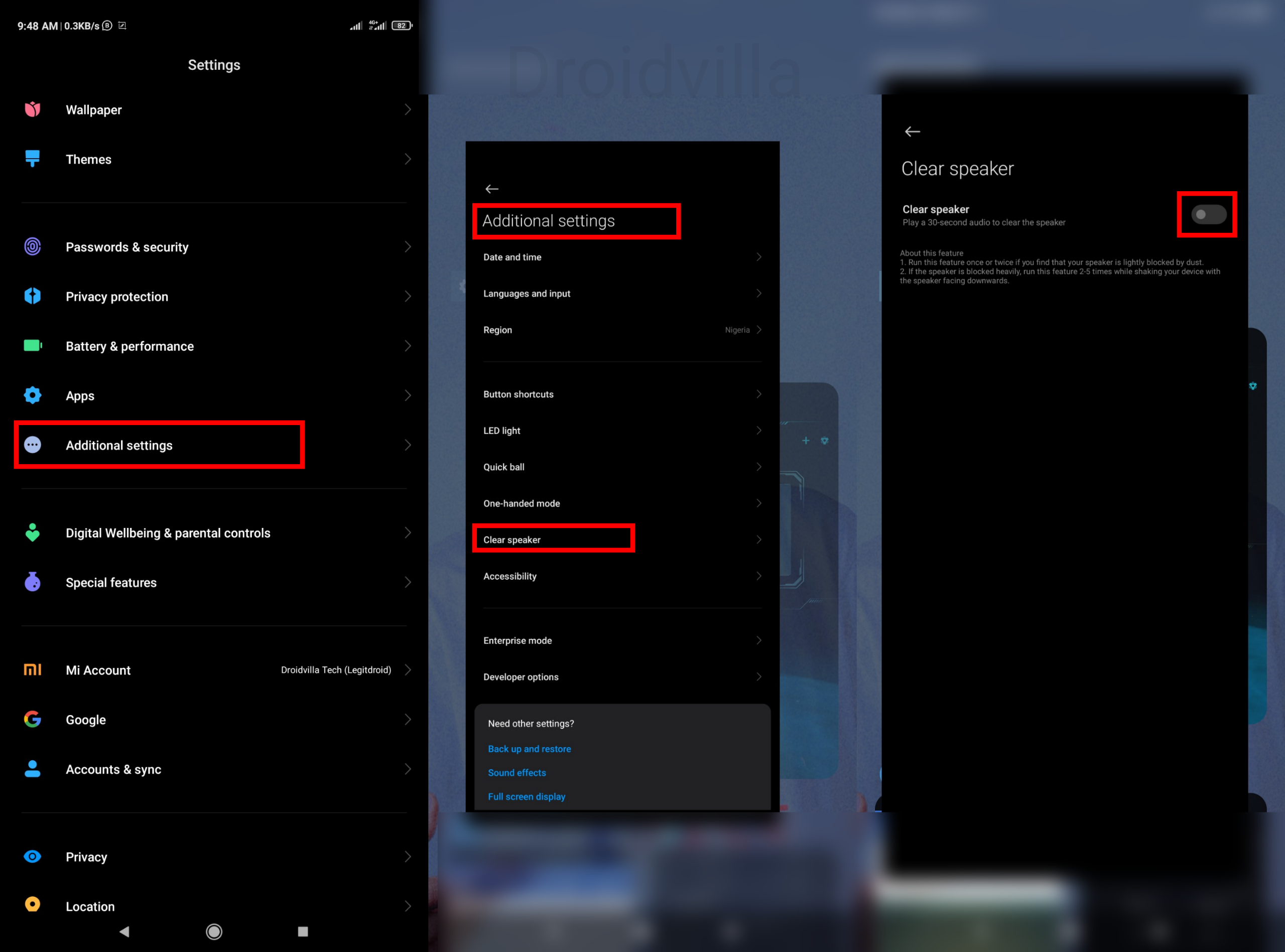 Open your phone settings
Locate "Additional Settings"
Under additional settings, locate "Clear Speaker"
Tap on "Clear Speaker", and tick the icon for the Xiaomi speaker clear to proceed.
Note that this process will take 30secs and the clear speaker miui 12 works very fine.. 
Join us on Telegram