How To Browse The Internet Without SIm Card and enjoy 10GB Free Data Using SIMO App
Simo
Introducing to you SIMO app which allows you to surf the internet without sim card and bomb is that, you get free 10gb worth of simo data for free.
This app actually lets you access the internet on your phones without a SIM card or connecting to any Wi-Fi. With the help of yet another awesome connectivity app known as SIMO has made it possible. With this app on your phone, you can for sure surf your favourite sites for free without a sim card inserted. Simo app data free 10gb is for all devices which is eligible for the virtual data. So if you device is not compatible for simo, then you will not be able to get the free simo app data of 10gb.
Note:
This app is phone selective, meaning that it works on Supported devices only. We got you covered by letting you know few devices that are compatible for this SIMO free net app.
We have Tecno Camon 12, Camon 12 Pro and the Camon 12 Air.
Reason being that these phones are built with a Virtual Sim chip technology that allows you to enjoy high internet speed even without a Sim card.
Obviously this is a welcome development from TECNO!
About SIMO App:
SIMO is an app that works as a virtual data SIM that connects you to the internet without a WiFi or SIM card in your phone.
We are proud to let you know that 130 countries are supported and you can browse the internet at a high 4G LTE speed no matter your location and country with No SIM, No Wi-Fi with the use of this crazy SIMO app.
For now just few supported devices are available at the moment, we are hoping for more devices as the days goes to enjoy the free simo app data 10gb.
Features/Benefits Of SIMO
This is crazy but technology made it 100% possible!
With SIMO, you will get to use different networks. You won't be stuck or tied to a particular network provider. You may see Airtel NG connected, but the next time you connect, you might see Glo, MTN or 9mobile network.
You pay as you go when using SIMO. No contracts, no
Simo
paperwork, no limits.
To spice this up, you will get free simo app data of 10GB trial data as a new user for the first month of using the SIMO App.
I know people having the device eligible for this is actually thinking of a way to get over this.
SIMO also offers Roaming-services for free. You pay a low rate for data no matter where you go. No surprise roaming charges or expensive international phone plans.
How to set up
Enable your phone Wi-Fi connection
Launch the SIMO app on your supported phone like the Tecno Camon 12 series.
Sign up using your email address, social profile or phone number
After successful login, turn off your wifi and click the 'Connect' button on SIMO homepage to get your phone connected with a local network.
Note

:
After exhausting your free simo app trial data 10GB, you're required to pay for the data plans on the SIMO app to continue enjoying the services. It's less expensive and there are various Plans: Use all data you pay for, with more affordable price, no daily limits attached. (Recommended)
Payment Methods
SIMO app have multiple payment methods which are:
Credit card
PayPal
T-cash
Go-pay
Paytm (coming soon)
Awesome service: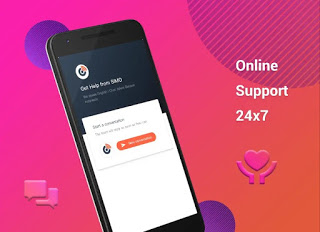 24×7
Get Support 24/7
Contact customer service within the app.
Enjoy SIMO app on your inbuilt virtual SIM chip technology smartphone with cheaper and faster internet services. Enjoy simo app data for as long as you wish.
Don't forget to subscribe to our newsletter for more exclusive update.