Paid GAMES FOR FREE
Paid for free
Best free android games 2019: In this posts below we shall be letting you know 6 android paid games and appa that are now available for free download.
In droidvilla we try as much as possible to always make searches on Google playstore for available paid Android games which are now free and is available for download. Lucky enough we found 6 games available for download! 
These paid Android games are now free for a limited period:
Lets hurry and get them downloaded before free download is over.
1️⃣.
Helix Run 3D – Color running ball collector game(Normally $0.99)
#1
Move through the same colour and collect the star
Feature:
Colourful UI
Unlimited levels
3D game
The sale ends in 6 days!!!
2️⃣.
Stone of soul HD(Normally $0.99)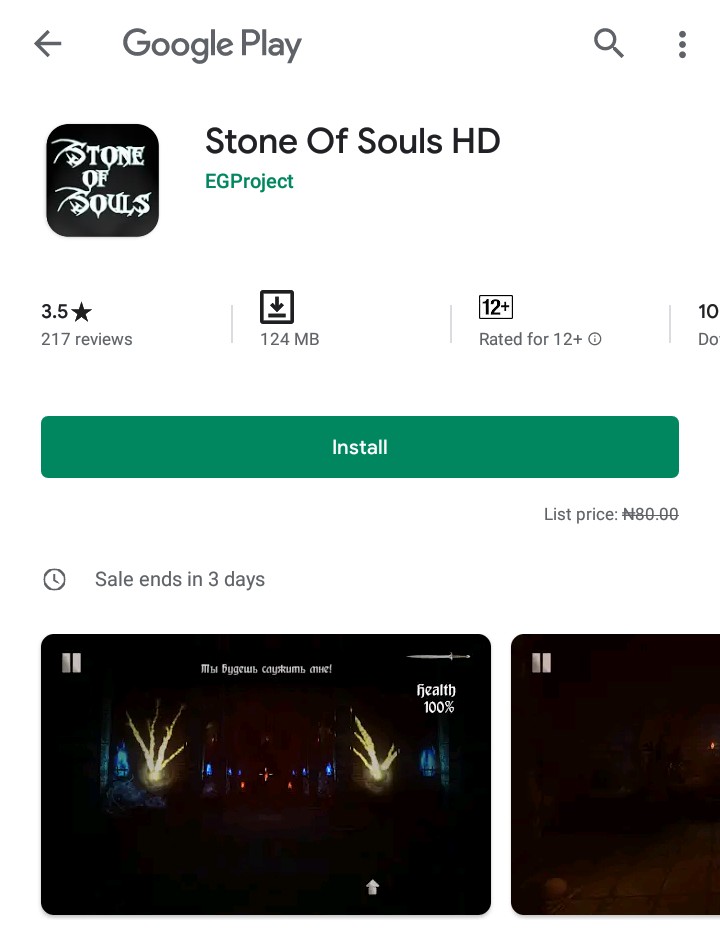 #2
Action-horror with RPG elements where mysterious corridors and dungeons, a lot of sinister monsters and quests are waiting for you. You'll have to find out where the evil is born and if the Stone Of Souls is the only artefact. Maybe it is just a part of a single whole, united evil.
I came into this old and mysterious castle emitting a death smell to find a sinister stone of souls and to stop the necromancer. It is rumoured that the castle has many underground corridors where terrible rituals are held. I'm facing a hard way where I have to stay alive as nobody has survived here. It's time to put an end to the necromancer's violence terrifying the whole neighbourhood!
The ale ends in 5 days!!!
3️⃣.
Warship Hunter War(Normally $0.99)
As the captain of the Royal Invincible fleet, this war will be under your control!
Perform the most realistic naval battle in the vast bay or on the high sea!
Feel the most real gunfire in Fleet War: WW2 Strategy Battle!
Game features:
Brand new 3D graphics:
Every detail is meticulously crafted, and the World War II fleet is restored with incomparably realistic battleship models; even on low-end devices, the game can run smoothly. Come and have a try!
 Easy to operate and use:
Sliding the screen to move and aim. Click to launch the artillery. The intuitive operation and simple interface allow you to master the game easily. You will be a qualified captain in the shortest time!
 Various battleships are waiting for you to drive:
Here you can find almost all the famous warships- destroyers, frigates, cruisers, battleships, and even the ultimate weapons of World War II. The aircrafts carried on the aircraft carrier combat and destroy the enemy automatically.
 Unique upgrade system:
Each warship can be upgraded, including the artillery power, automatic cruise missile, carrier aircraft, and protective gear;
Drive the sea iron behemoth and fight on the sea.
Form an invincible fleet, defeat the enemy in the sound of gunfire!
The sale ends in 6 days!!!
4️⃣. Sky Dancer Premium(Normally $0.99)
Sky Dancer Premium offer you:
✅Receive playing bonus without watching ads (you can watch ads to double the reward).
✅Open chest without watching ads (you can watch ads to double the reward).
✅4 free characters: Hattori, Joker, Tharbadis & David.
The unique run game achieves the "ANDROID EXCELLENCE GAME" from Google Play.
THE PARKOUR REVOLUTION IS HERE
Run and jump across hazardous cliffs from one flying island to another, while avoiding large boulders. Feel free like a bird as you run through the skies and land gracefully trying to beat the endless abyss. Conquer all the dangerous terrains in different weather conditions from clear skies to storms which rage for days.
RUNNING HAS NEVER BEEN THIS EXHILARATING BEFORE
Take a deep breath, concentrate and feel the adrenaline pumping as you take that exhilarating jump. The experience might seem frightening and surreal at first, but soon you will find each free fall soothing and relaxing.
WHAT MAKES SKY DANCER RUN AN AWESOME RUNNER?
Free Falling! Sky Dancer Run is a new runner where falling is just as important as running! Feel the fall from the sky and make a perfect landing like a pro!
* A stylish running games with a daredevil attitude! It's #1 impossible runner games that produce the toughest challenge!
* In Sky Dancer Run, you take huge, exhilarating, impossible, action movie-style leaps-and pray you've got the skills to land on that platform far below.
* The graphics and controls are beautifully minimalist, but what really gets you is pulling off impossible feats again and again.
* Run as far as you can but watch out for the drop! Join our dancers and jumpers on this greatest space adventure of Sky Dancer!
* Featured in BEST MOBILE GAMES IN 2017 by CNET.
Also read :Hot! Download these 6 paid Android apps and games for free anytime
Also read :Downoad Internet Download Manager(IDM) Crack V6.33 Build 3[X86 and X64 patch]
www.cnet.com/au/pictures/best-mobile-games-of-2017/23
* Sky Dancer is ONE OF THE BEST FREE RUNNING GAMES to Download and Play! All in-app products are completely optional! Are you ready to challenge the coolest runner right now?
BE A DAREDEVIL AND DARE TO MAKE THAT JUMP
The Sale ends in 7days!!!
5️⃣.
Buff Knight Advanced – Retro RPG Runner(Normally $1.49)
#5
★★★ Launch Celebration! Get 50% Off! ★★★
※ You can also play it FREE with the free-to-play version, but there will be some banner ads.
※ The regular version gives 5 gems to all new players and an additional 10 gems every time when players ascend his/her character.
※ In the case of the third boss, you must make a charging attack, remove the shield and then attack.
Buff Knight Advanced is a 2D Pixel RPG where a player's character is constantly on the move. Kill the incoming enemies with your sword and spells! Stronger monsters will get in the way as you progress, and eventually defeat the player. Collect artefacts and upgrade your weapon and armours to fight against them and become the most powerful knight ever!
Buff Knight Advanced is the official successor to Buff Knight, a critically acclaimed mobile version with more than 1.5 million downloads, and the recipient of numerous awards, such as becoming the #1 paid RPG in Sweden, Japan and Taiwan, in addition to the #1 paid game in Korea.
▣ Game Features
– AWESOME & EPIC 8 bit retro sounds and pixel graphics!
– 12 Different stage!
– 12 Different bosses!
– 2 playable characters! Play as Buff Knight OR Buffy the Sorceress!
– Use your sword or spells to fight the incoming monsters!
– Develop your own strategies – There are tons of different ways to strengthen your character.
– Collect 20 ancient artefacts with special abilities and upgrade them to strengthen their power!
– You can switch your artefacts during the gameplay now!
– Try out the new charge attack and special items against the enemies!
– Upgrade your weapon and armours – Your gears have multiple levels of upgrades!
– Player ranking system – How good are you?


▣ Special Items
– Shoes: Makes you invincible and dash through enemies.
– Sword: You need much less time to charge your attacks.
– Mushroom: Improves your melee attack damage x2 stronger.
– Magic Scroll: Calls meteor strike from the sky.
– Potion: Regenerate your health and mana immediately.
– Bomb: Throws powerful bombs to the enemies ahead.
▣ Game Tips!
– Hold your attack button until your hero flashes and release it to use your "Charge Attack."
– If you use the lightning attack when monsters are in the air, the game goes into a slow-motion for a short period of time. Touch the monsters repeatedly to activate your combo attack.
– If your charge timing is just right, you can charge your attack while your auto-attack is active.
– You can switch your artefacts during the gameplay in the pause menu.
The Sale ends in 7days!!!
6️⃣.
Sonny The Mad Man(Normally $0.99)
#6
Welcome to Sonny The Mad Man! Are you ready for adventure and epic fights?
Main features of this game :
High-Quality HD Adaptive Graphics
This game is designed to adapt to your mobile phone or tablet's performance capability. You can also customize your graphical experience by setting the graphics quality to LOW, MEDIUM or HIGH to match the FPS rate to your device.
Fight a number of dangerous enemies, each with it's special strength and weaknesses!
Improved and adaptive controls
With the feedback of more than 10000 people, I was able to improve the controls for this game and offer 3 different joystick configurations that will suit even the most demanding gamer! Set the Touch Sensitivity option to your desired comfort level and pick your favourite joystick setup from the settings panel!
Fly around and spread mayhem
Fly through the city in a jetpack, different helicopters and even a jet fighter!
Story mode with a ton of missions
Every time you complete a mission, a new one is unlocked to provide you with endless hours of fun!
Drive around shooting from tanks and missile turrets!
Do you like driving more than flying? All the vehicles featured in this game are controllable, even the tanks! Missile turrets you say? Sure, why not!
Enjoy!
The sale ends in 6 days!!!




Don't forget to subcribe to our newsletter for more exclusive update.