Droidvilla Technology Apk
Thank you so very much for waiting patiently this long for the availability of Droidvilla Technology Android Apk application or DVTech apk as it is officially available for download directly from Google PlayStore.


Finally Droidvilla Tech application is now live on Google PlayStore for download and this time it is verified and accessible for everyone.
A very big thanks to all loyal followers of Droidvilla Tech for patiently waiting for the release of DVTech applications on Google PlayStore. Droidvilla Technology apk is approved amd verified on Google PlayStore.
Without further Ado, the Droidvilla Technology app features the following:
Dark/White Theme
Synchronization of latest updates
Read Offline (After Synchronization, you can turn off your data and read articles without data connection active)
13mb APK download size
Free for download on media fire
Safe to install
Uninstall Previous Droidvilla Tech apk before installing latest
Droidvilla Tech Apk is now live on Google PlayStore For download..
Kindly Uninstall any previous Droidvilla Tech apk and install the latest and verified Droidvilla Technology apk directly from Google PlayStore below.
👇👇👇👇👇👇
Do leave a review on how we could improve the app and also how it looks…
Thank you
How To Download Droidvilla Technology Apk App 
You can download Droidvilla Tech apk directly from Google PlayStore below
Download Droidvilla Technology App  
How to install Droidvilla Technology Apk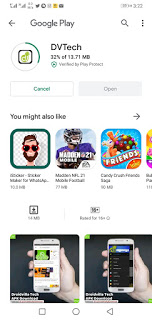 DVTech apk download
Just after downloading Droidvilla Tech apk from Google PlayStore above
Wait for download to be complete and tap on the open button. 
Don't forget to share DVTech Application to friends and family members.
Thank you