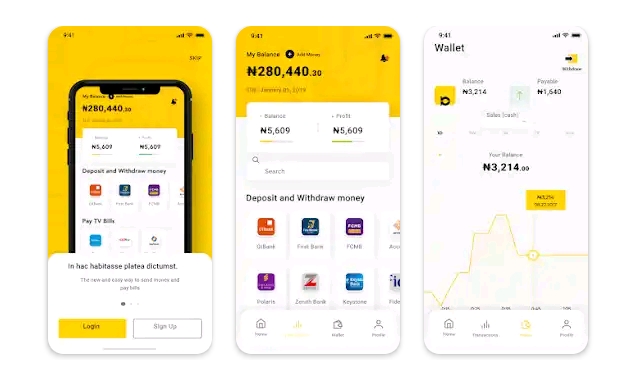 Baxi Mobule App 2020
Another online money making opportunity we are about to share for free to you and here we introduce to you Baxi mobile application which is available for all mobile devices and we shall be giving out possible means to make money online from Baxi mobile app.
With Baxi Mobile app there are tons of features to carry directly from the application, starting from the online transactions, baxi mobile pos which can be gotten for free but with terms and conditions needed to get the POS.
Also Read: Latest MTN 0.0kb Unlimited Free Browsing Cheat 2020 Using Tweakware




Without wasting much of the time, we shall be going straight to the main reason of the post and that is how to make real cash online right from your comfort zone.
Baxi app is totally free and everyone can definitely make real money online from baxi app without spending a dime nor having headache.
What Is Baxi Mobile App?
Sign up on baxi mobile app
Baxi Mobile app is specifically used to make all transactions easy, starting from buying of airtime and data, which has been a real great deal for everyone, paying of Bills online (gotv, dstv, nepa bills and lots more). Most interesting is the fact Baxi Mobile App offers free POS machine.
Also Read: How To Share MTN Data, 50mb, 100mb, 200mb, 400mb and 500mb In 2020




Finally now you know little about Baxi Mobile App, let's get to show you how to make at least n5000 online weekly through Baxi app, and how to get started. We shall get in details how to register Baxi Mobile App and get started making money online in 2020.
Ways To Register On Baxi Mobile App:
Registration using BVN (Bank Verification Number), which is highly recommended.
Lastly, Registration without using BVN (Bank Verification Number). Not recommended
Recommending BVN registration process is simply the easiest and fastest means to get verified into baxi mobile app. Don't worry about giving out your BVN to baxi, as all that is required are your bio data for verification.
Also Read articles that are similar
Rapido Run Smart Contract Review 2020: How To Register and Accumulate Ethereum From Rapido Run 2020
How To Register On Baxi Mobile App
Register on baxi mobile app
Firstly download baxi mobile app from
After successfully downloading Baxi Mobile App, simply open the app and tap on sign-up button
Now tap on the register with BVN and proceed in filling in your details correctly.
Take a selfie picture or upload directly from your phone gallery.
Input your BVN number in the provided space





Input Your email address correctly
Get a username which is recommended to be upto 8 characters long
Input Phone number and get it verified
Create a unique Password which must be 8 character long and should include at least one Capital letter, number and one special characters e.g &%? #$@•|~¢¶®a
Lastly, input Referral Code (optional).
Tap on the continue button, and just after that, you will need to verify your phone number. You should receive a text message with your One time password for the phone number verification.
Once done, simply check for your baxi account number and copy it.
Now fund your baxi account with just N1000 via mobile ussd transfer code or Mobile banking apps.
Once this is done, simply proceed to next procedures below!
How To Get My Baxi Mobile App Referral Link
There is actually no referral link on baxi mobile app! Baxi mobile app have an alternative for referral link, which is referral Code we are about to show you.
In order to get your baxi mobile app referral code, simply open your baxi mobile app and click on the settings icon. Now scroll down to where you see "My referrals" option.
Also read: How To Get Free N500 Cash Via Vbank App by VFD MFB [101%]
You should see something like this!
when you refer someone to download and sign-up to baxi Mobile app you will get free N400 which when accumulated can be wired straeto your local bank.




Now tell your friends to download and install baxi Mobile app and they should ensure to use your personal baxi mobile app ref code we just showed you how to get.
On doing this, who so ever gets to download baxi Mobile app and uses your referral code, you get Free N500 and which can be accumulated bh simply keep referring your contacts to download and register Baxi Mobile App.
Referring 15+ persons to register on Baxi mobile app gives you over ₦5000+.
How To Withdraw On Baxi Mobile App
All you have to do in order to withdraw your available funds on Baxi mobile app, simply click on the transfer button which can be found at the menu screen. Now select the available option, either transfer to other baci accounts or transfer to other banks.
Select preferred option and proceed to make transfer of funds on baxi mobile app.
Was this helpful? Don't forget to follow us below!