We are hoping all 9mobile users get this working flawlessly.
Do you own a 9mobile simcard which has been abandoned for a period of 30days or more. Probably you get to come across any, just pick it up because we have got lots of goodies for you.
9mobile formerly known as Etisalat Nigeria is currently ditching out huge awoofs to all its customers who have been away from the network for a long period of (30days +). 9mobile is welcoming you with free N2000 worth of airtime, 150mb to be used at night and free 1024mb to be used all day by simply coming back to the network.
Welcome Back! You have 2000% worth of bonus. 500% for national calls and 1500% worth of data. All valid for 30days.
Dear Customer, you have been credited with N2000 Bonus airtime. Bonus can be used to call all networks. Valid/3 days
Main bal: N 0.00;promo: N 15.00;Main3: N 2000.00;Your WB1 Bonus is: N 750.00;WB2 Bonus is: N 750.00.Recharge your line directly from ALL your bank accounts. Simply dial *695# NOW & follow the instructions.
You might be woooowing or wondering how, so here is what to do.
Procedures:
Pick up your abandoned 9mobile sim (Must be 30days unused or more) and insert it back to your Android device.
Simply make a Recharge of any amount (N500 above recommended for higher awoofs).
Images below were gotten with a top up of N200 only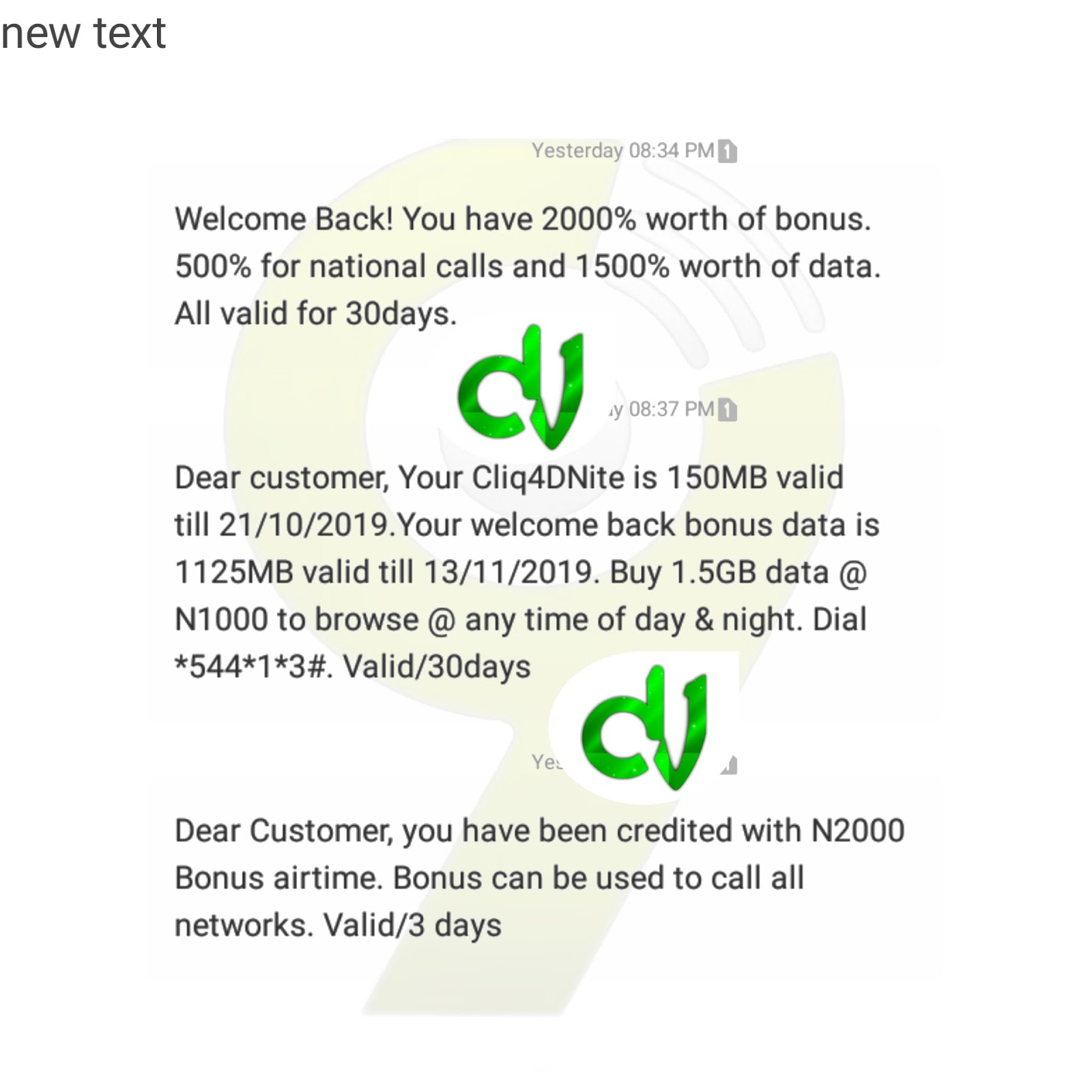 Now this is what I am talking about!
That is all and good thing is that, it does not just end there, you can as well get more awoof as you keep on recharging in within a period of 1month.
Now you have got to know about this, don't keep it to yourself, feel free to share with friends, enemies and family members.
Thank you