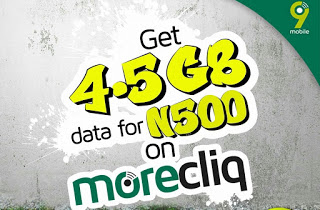 Sorry guys this is dropping late here, we sincerely apologize for late information
For all those asking why I don't post about 9mobile, here I guess is a great start for y'll.
That is by the way, let's go straight to the point to avoid further delay!
How to get whooping 4.5gig for #500 on Etisalat.
1. Get a new 9mobile sim card (dial 200 and press 2) to activate More clique.
2. From an Existing 9mobile package (dial *244*1#) to migrate to more clique.
3. To subscribe for the 4.5gig for #500, dial *229*10*16#


Boom
you have successfully received 4.5gig worth of data for just #500.

See prove below

Note:
This wonderful activation can be activated just once on all 9mobile sims.
The 4.5gig is valid for just 5days. 5days I mean, obviously in 3days a whooping 10gig is gone for me😂😂.
How much is for a new 9mobile sim in your area?
Hope you are not actually thinking what I am thinking?
Don't forget to share and be a part of this great offer.
Thank you
Join our telegram channel