4g Mode only!
Finally the days of 2g/3g/4g or 3g/4g mode only is over and the era of 4g and yet 5g to be fully active is come.
I will be giving you a 100% safe mode and easy step on how to Force 4g Mode only your android 4g enabled device to experience max speed while surfing the internet and to avoid data connection throttling from 4g to 3g.
Here is a quick guide on how to force 4g mode Only on Your android Device [No Root]
#
Note
: Make sure your device is 4g enabled to be able to force 4g mode Only on your android device.
Open your phones dialer

Dial *#*#4636#*#*
USSD code
A new screen will be shown with 3 options.

Choose Option of Phone 📱 Information.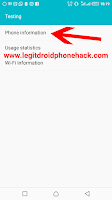 Android 4g only mode
Then you should be able to see your phones information and preferred network type.
Select LTE mode
Now open preferred network type and you should see lots of options.

Scroll to where you see LTE only .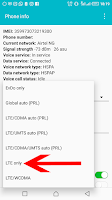 LTE mode Only
When done you have successfully activated 4g mode only.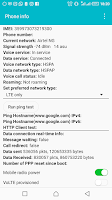 Done

If your android device doesn't change after following due to process, then you should know your android device isn't 4G enabled, because this tricks force 4g mode only on 4g supported devices.
(Mine didn't change in status bar because my phone isn't a 4g enabled device).
After your have successfully forced enabled 4g mode only on your Android device, Now you can browse with full backup assurance of no switching into 2g or 3g while surfing the net.
Experience speed and stability with 4g LTE enabled mode only.
Don't forget to drop a comment.
Droidvilla.com gaht you covered!!