AccessBank Xtrawins Promo Free N10000
Oh yes, after we posted on how to get Get Free N1000 On AccessBank Xtrawins Promo last week or so, we have come with another amazing xtrawins promo offer, so we will be showing you how To Participate and Win AccessBank Xtrawins N10,000 Cash prize.
Whatsoever is been posted on Droidvilla Tech Blog is always confirmed first and trustworthy, if their be a but or a comma, we will for sure get it highlighted and bold for each and every viewer to see, to avoid getting any mislead.







So if you missed out on the AccessBank Xtrawins N1000, N5000 and N10000, here is another one time chance to grab free N10000 credit alert from AccessBank Xtrawins Promo draw currently ongoing. I bet not just one person wants to miss this opportunity of getting free xtrawins n10000 from AccessBank Nigeria.
---
How To Participate and Win Free xtrawins N10000 From AccessBank Nigeria
There isn't any thing much to talk about as your C. E. O was one of the latest AccessBank Xtrawins N10000 Promo cash prize winner and was fully credited today been the 28th August 2020.
The money done finish sha, so abeg wait till 8:59pm to participate on the Free MTN 500MB Night Data Subscription [Droidvilla Giveaway].
So, just to clear doubts, I have a screenshot of my credit alert alongside with one of the lucky winner.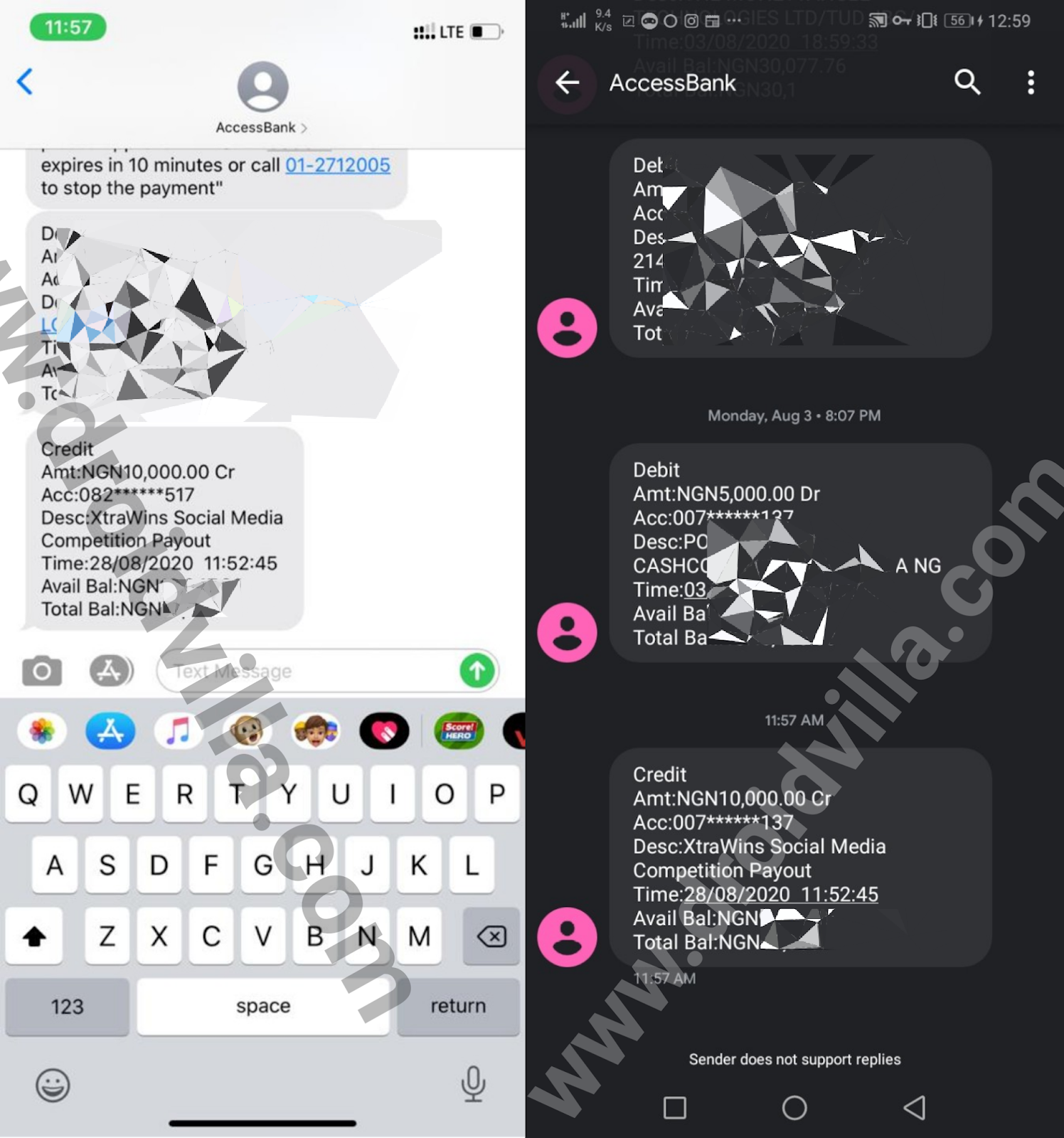 AccessBank Xtrawins Promo Free N10000
Seeing the alert should give you moral to get started with how to get this free Xtrawins Cash prizes from AccessBank.

AccessBank Xtrawins Promo Requirements
Before participating for the AccessBank Xtrawins promo you are required to have an active AccessBank Account (New/Old)
Minimum of N500 in your account for Transaction
Finally Luck 🤞
If you are ready to win Free N10000 cash prize from AccessBank Xtrawins cash promo reward then let's get started.
AccessBank Xtrawins Promo Free N10000 cash prize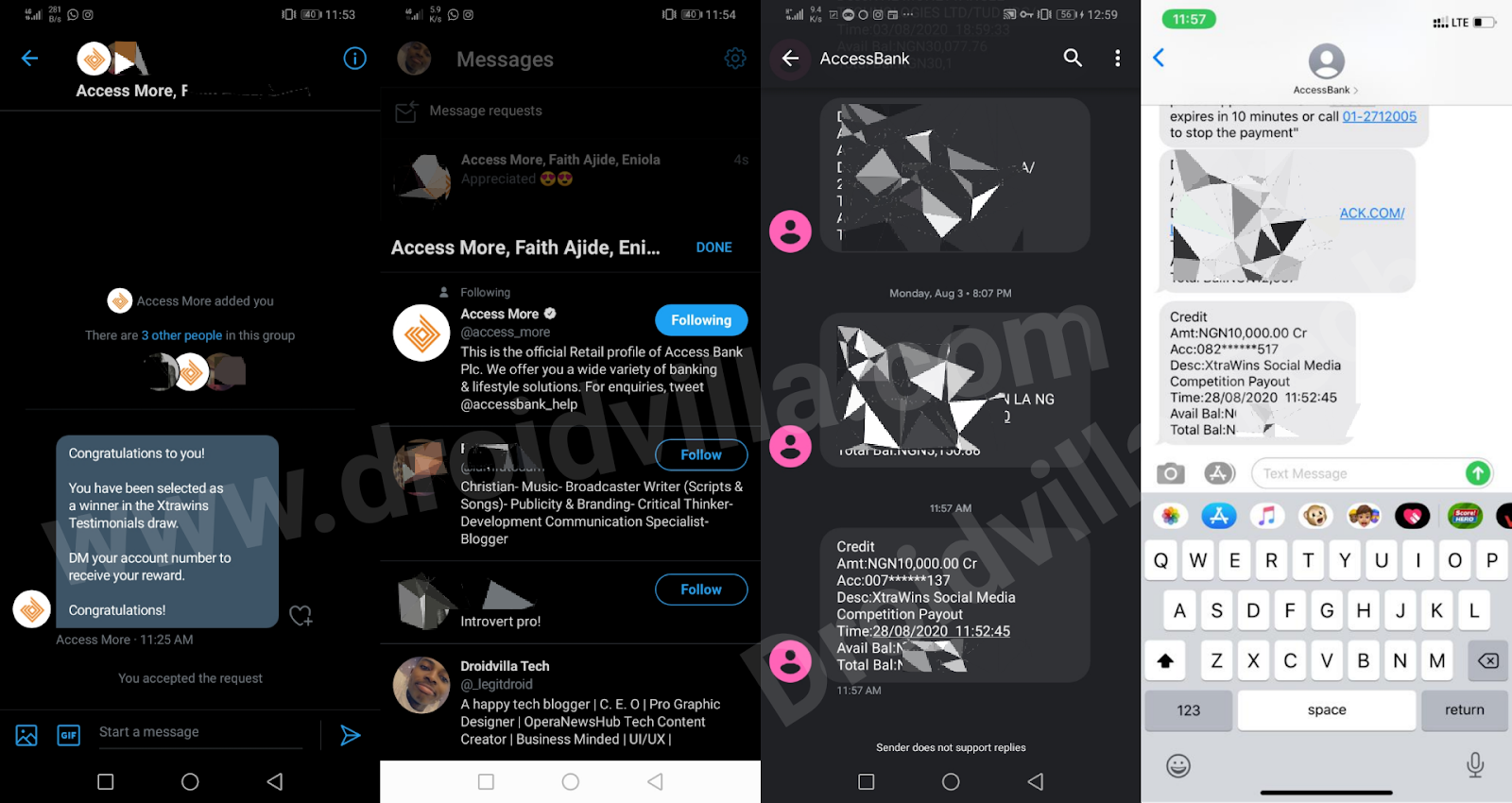 AccessBank Xtrawins Free N10000
For you to participate and win N10000 cash prize from AccessBank Xtrawins Promo you are expected to do any form of transaction usin *901# for minimum of 5 times. 
This doesn't really matter what form of transactions, but I will show you what I did to be so lucky.
What Type Of Transaction Should I Do?
---
All you have to do to participate and be lucky for the AccessBank Xtrawins Promo draw of N10000, is simply to make a quick recharge top up, buy data, pay bills, make transfer or any form of transactions for 5 times or more to get a chance to be picked.
Tips To Get A Higher Chance Of Being Picked
As earlier said, I promised to drop just what I did so you can as well get lucky and win with me. 
So what I did was quite smart and simple, I simply made a recharge top up of N200 to my line Using *901#…. Made another quick recharge of N100 using *901# to a friend… Made another quick recharge of N200 to my 2nd line…  Now in total, I have made a transaction of N500. I didn't just stop, I made a Transfer of N1000 to another AccessBank Account Using *901#.
Just what I did and all this happened in less than 1Hour, that is another key point. 
Perform all transactions in less than an hour to get a bigger chance of being qualified.
How Will I know I Have Been Chosen Or Selected As AccessBank Xtrawins Promo Winner? 
---
I never thought of winning because I got a pop up message on my registered bank line and I gave it a normal try last week, and I forgot about it, not until yesterday I got a message from Access More official Twitter Account saying I have been selected as a winner.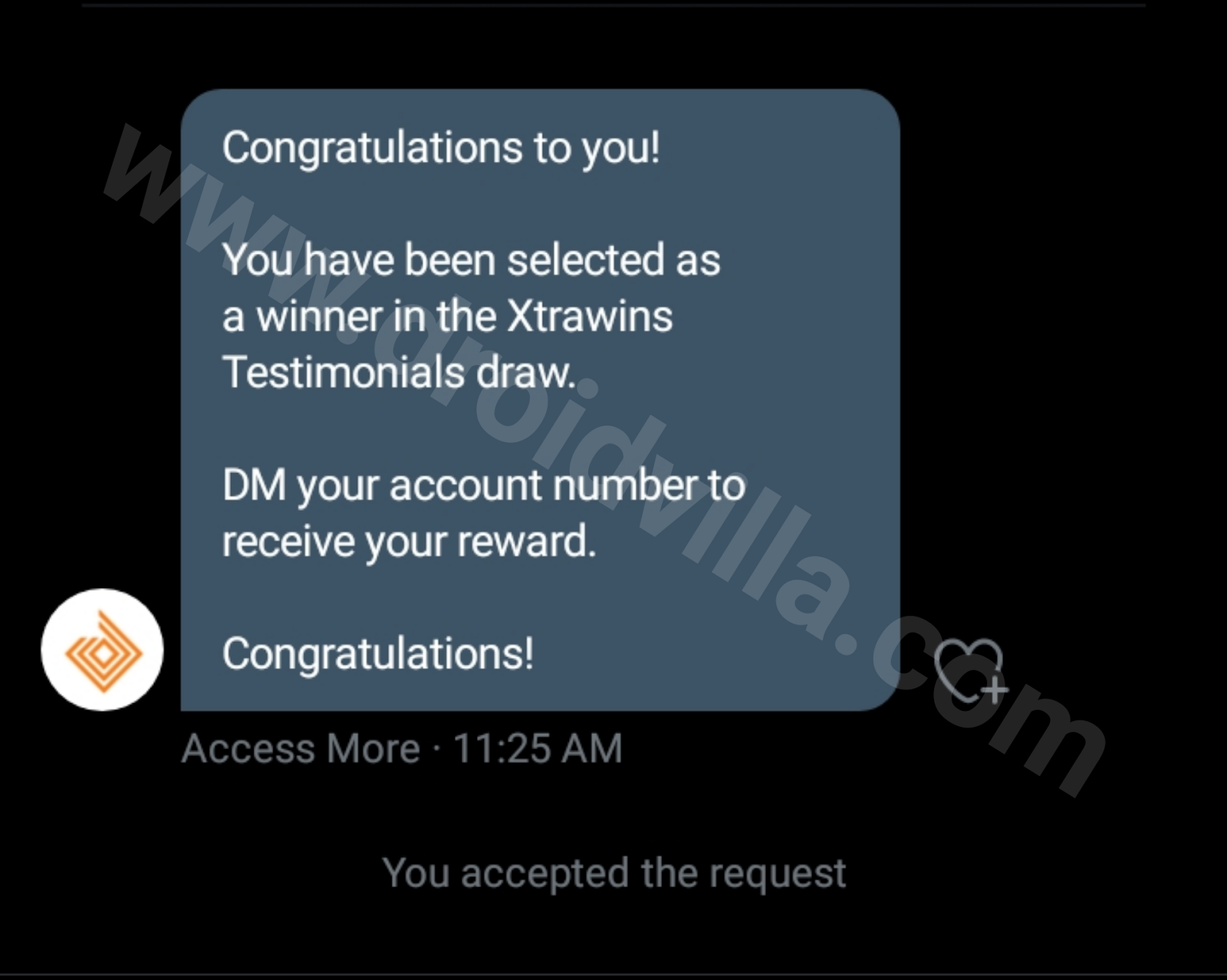 AccessBank Xtrawins Free N10000
I wasted no time to check if it was not a scam account, and it was a big surprise it was real and coming from Access More Official twitter account.
You will receive a message from any social platform or via a text message to your line, if and only if you have been selected as a winner.
Bigger Xtrawins August Mega Promo Draw Of N1, 000,000 Alert
AccessBank Xtrawins Free N10000
You can be so lucky to win huge 1 Million Naira all for free by participating in the AccessBank Xtrawins Promo currently ongoing. 
This was a message received today from AccessBank and I thought of sharing this with you also. 
Imagine a N1,000,000 alert, just like that! Enter our XtraWin August Mega Draw today. To qualify, simply buy airtime & transfer funds 5x daily. Ts&Cs apply.
So get started and be lucky to win free N1, 000, 000 from AccessBank Xtrawins August Mega Promo Draw.
If you have any further assistance or query, kindly use the Comment box or join us on our social platforms for further assistance.





---
Join Droidvilla Tech on the below platforms
Facebook
Instagram
Twitter
Google News
Pinterest
LinkedIn
YouTube
Telegram
————–