This promises to be the best article you will ever find on the internet today on how to share your internet connection to your laptop, Pc, System while using a VPN service. Everyday statistics shows that thousands of searches on how to share vpn internet connection to a system is been searched on Google, Bing and the likes.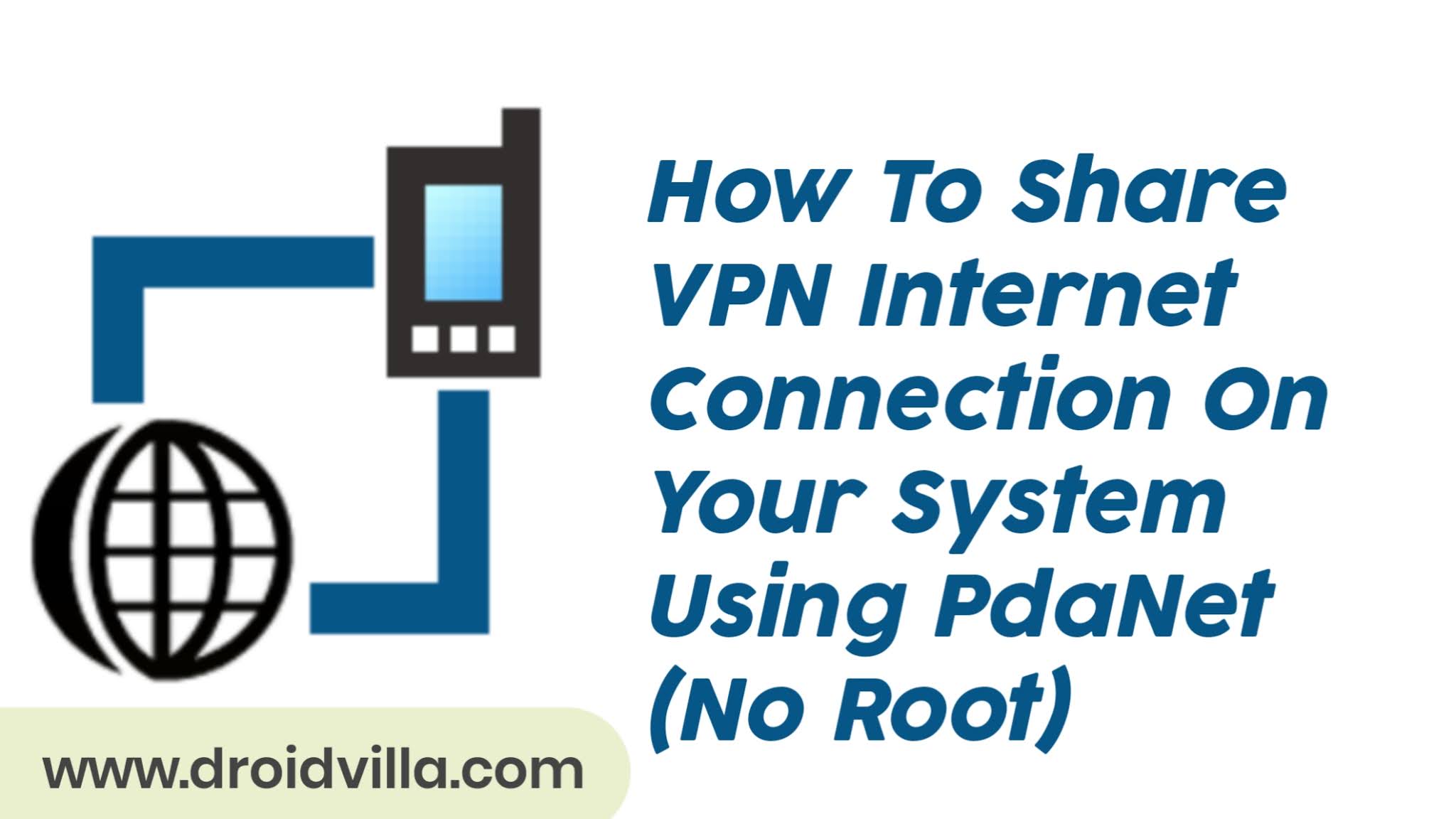 tether internet connection using PdaNet 
One way or the other, you will certainly want to share your internet access to a system while connected to a VPN service, but there is no other sure way in achieving that, unless you are one of the lucky viewers of the post " How To Share VPN Internet Connection On Your System Using PdaNet (No Root)" today.
As mentioned before now, this is the best and surest way of getting to share or tether internet connection on your system while connected to a vpn service without having to get your device rooted or using a Hotspot service. With a usb and PdaNet, this is possible to share your internet connection on the go.
PdaNet works for Root and none Rooted devices, so there is no atom of why this tutorial shouldn't work for you. Do you have free internet access? I mean, do you have a free browsing cheat, MTN DS, Airtel DS, 9mobile DS, Glo DS (Data Sim) and you don't want the stress of having to subscribe to a 2 device VPN premium service to enjoy surfing the internet.
PdaNet is just the best pick for you, with PdaNet you have the fastest download connection upto 8mb/s even while connected to a VPN server and you get to share your internet without hotspot to your system with this simple and powerful application PdaNet.
If you are among those with the search, how to share internet without hotspot, internet sharing app, how to share internet without hotspot and bluetooth, how to share internet from iphone, how to share internet from iphone while using VPN without hotspot, how to set up hotspot on iphone, connectify and so on, definitely and obviously this is the end search result for you.
At the cause of this article, you will be able to share or tether your iPhone internet or Android internet connection to your system using PdaNet.
Downlaod PdaNet (Android)
Download and Install PdaNet software on your System and let it automatically install necessary drivers.
Now connect the device to your system using a stable USB Cord.
A notification pop up will appear just at the bottom right side of the desktop Toolbar, now tap on the PdaNet notification and the USB tether will be automatically connected and successful. 
To make things easier, if you don't see a pop up while the device is connected to the system using a USB cord, here is what to do. 
PdaNet.exe System Settings Manually
After you have connected the device to your system via USB cord, to connect your device internet connection to your system 
In less than 30secs, it should be connected successfully.
Pdanet connected successfully 
You have successfully connected your internet connection from your Android to your system.
How to set PdaNet to connect automatically when USB is detected
This is the best and recommended PdaNet settings for everyone who intends to share/Tether their internet from iPhone or Android into system.
In summary!





You can now tether any VPN free browsing cheat or tweak from your android device to a system without Hotspot connection.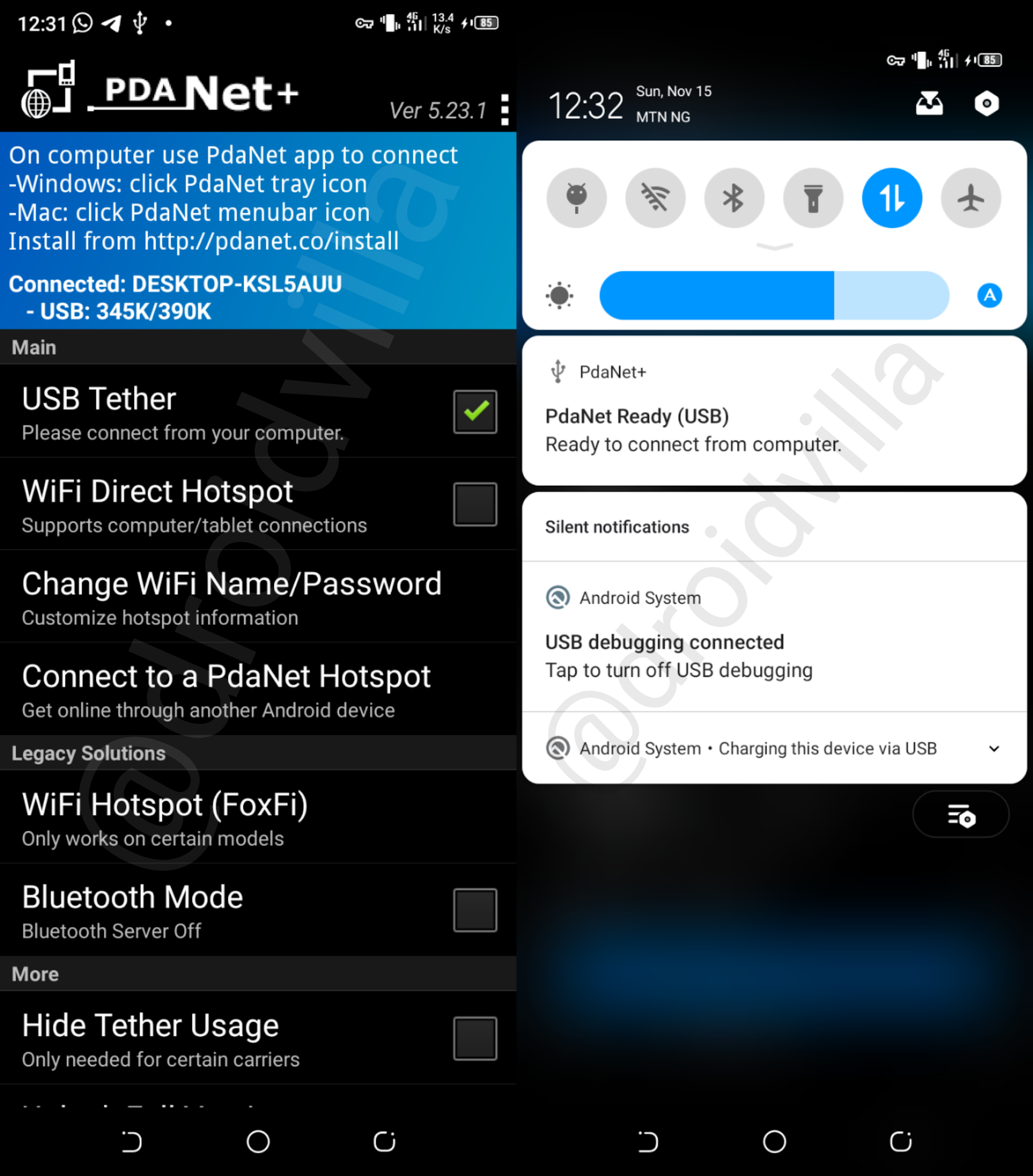 How to share vpn internet connection on Android using pdanet 
You can as well learn how to share internet from iphone using the simple settings initiated on your iphone!
Sharing your internet connection on iPhone is quite easy and simple, follow steps below
Firstly, Connect your iPad, iPod touch, or another iPhone data connection.
Now enable your Personal Hotspot From Settings > Cellular > Personal Hotspot on your iPhone device.
Now on the other device which you want to connect to your iphone hotspot or you want to share your iphone internet with, navigate to Settings > Wi-Fi, then choose your iPhone Name from the list of available networks.
If requested for a password on the connecting device, simply input your HotsPot password or if forgotten you can go to Settings > Cellular > Personal Hotspot on your iPhone and tap show password.
Finding it difficult to get yours connected?
We are open for queries and support, do leave a comment below or send us a mail droidvilla.post@gmail.com or join us on the below social platforms provided.