Find In Page Tool
Have you ever been up, searching for a keyword on a website page and all you have to do is simply go through website page line after line?
Sorry for not bringing this to you all this while!
Find In Page tool
For some reasons, we all want to quickly screen through a web page in search of a particular keyword, probably a Name, source, status or as the case may be and having to go through each lines of a web page in search of that particular keyword, is indeed one of the worst mare, just as you have to watch closely in other not to pass the keyword you are searching for.
Good thing is that, almost all browsers recent update makes it possible for a user to quickly screen through a web page in search of a keyword by simply using the Find In Page tool.
This Find In Page tool lets a user to search for a particular keyword or sentence in a web page, without having him/her to go through in line page reading and search for the keyword.
For example:
If you are expecting your name in an admission list and finally the list comes out online, instead of going through all names one after the other in search of your name, all you have to do is simply use the Find In Page tool and input your name for the tool to quickly screen through web page to get your name if available.
The most interesting part is that, the Find In Page Tool immediately tells if you have a particular keyword matching your search as you type. If there is no search result for your particular keyword, then the result will be marked Zero (0).
Where can I see the Find In Page Feature?
It is quite easy and simple, using chrome as an instance!
Tap on the three dotted icon at the right side of the screen as seen in image below!
Tap on the Three dotted icon
Now locate the Find In Page and tap on it (image below)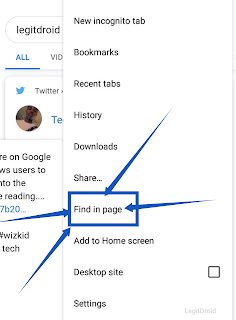 Find In Page
Finally, input the keyword you wish to search for and all available result with the search keyword comes to surface with a yelow identification colour. (Image below)
Result available
The image above shows 32 search result of the keyword Legit on that particular web page. You can as well use the up and down arrow key by the side to quickly jump into the next keyword result, without having to scroll through.
In summary, this feature is a quick way of getting to find a particular search keyword without wasting much time.
Don't forget to subscribe to our newsletter for more exclusive update.