How to Use MyMTNApp without internet
There are so many times you really want to do something with MyMTNApp but you have no data balance to access it, well your luck has successfully been activated by Droidvilla.com and we are going to show you in details how to go about it.
Requirements:
MTN sim (no internet connection needed)
Your Android Device
MyMTNApp
Your Happiness hormones 😁
ACCESSING THE PLATFORM
⚜ Insert your Mtn sim on your Android Device (if not inserted, but if inserted skip this part).
⚜ Turn off your data connection while your Mymtn app is Installed!
⚜ Try accessing the app without data connection and you will be getting different error messages of network connection not available ( in some cases it will switch to the lite version of the app in just one trial while some cases u will have to go through some teeny-weeny stress)
⚜ And voila!
You will begin to see a black background with white flat logos of different services; for eg. Recharge, Youtube Video, Data services ,etc.
MyMTNApp Lite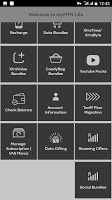 MyMTNApp Lite
This was tested once and worked just fine by me!
There you have it! You can now access it's features without data. Don't forget to tell us what and how you feel about the app's development!
Have a nice day
Don't forget to subcribe to our newsletter for more exclusive update.