Winzip Premium Apk
Welcome to Droidvilla Technology and today we shall be discussing on the easiest and fastest way to Zip and Lock Any Android File In 2020 Using WinZip Premium Apk.
There should definitely be a reason you decide to lock a particular zip file before getting to even think of how possible it is and if you are in doubt on how to go about setting a password lock on zip files, please worry no more as droidvilla tech is obviously here to help teach you how to encrypt any zip file for free in Android 2020.

What possibly could make someone password a zip file?
Reasons For Zip Encryption / Zipping?
We we possibly give you some reasons it is idea to password lock a zip file in 2020, so here are some detailed reasons below. 
To Secure a document or file
The best reason for encrypting a zip file is to secure the file accessibility from unauthorized sources. Even though there is a possibility of bypassing a locked or encrypted zip file, people still just have to justify all righteousness in doing that which is right.


For Online Sales
Yes, this is the most common reason why people lock most zip files in 2020, as it increases the chances of selling an idea 💡, ebooks, profiled contents and lots more without having to worry of it been accessed by just anyone.
Suggested Articles:
To Save Internal Memory Space/Memory Card Space
I knew you might be shocked with this one, but trust me it is very true. Having to get an image folder, music folder, video folder and lots more zipped saves apparently a whole lot of storage space and getting it encrypted is one big way of ensuring your files are secured just if they might be a personal documentation or high profiled contents in them.
Certainly, you shouldn't be surprised! This is the reason all android games with obb files and all custom ROM's are always zipped and when unzipped comes out to be a very large file after extraction is completed.
For personal Reason 
In summary of what we have got on reasons for encryption of zip files, we have got a personal reason which can also be seen as an individual choice. Someone might possibly prefer to encrypt a zip file just to get a particular traffic or subscription to another platform, just as we did on our recent post "
Download DSTV Cracked/Hacked Apk and Watch Over 2500+ DSTV Live Channels for FREE via VTV Apk
". We encrypted the zip download in interest of having more subscribers to our
Telegram Channel
, where we secretly dropped the zip unlock code for the DSTV Cracked Application via VTV app.
So having getting to pen down few things about the reason of getting to zip file and also encrypting the zip file I gues it is high time to show you how to successfully zip a file and lock it directly with your Android phone in 2020.
How To Zip Any File On Android 2020
Firstly we shall make provision with the best and recommended Android application to Zip/unzip/encrypt any Android file directly from your mobile device.
Download WinZip Premium Apk
Here is the direct Download link to Winzip Premium Apk
Follow steps to continue on how to zip any Android file in 2020
Download and install Winzip Premium from the above link provided
After successfully installing Winzip Premium on your Android, simply locate winzip premium and open it.
Note: WinZip Shows only the memory card storage
Now open the memory card, select and hold a folder, image, video, music, record, txt, doc or whatsoever you wish to zip.
Now tap on the

Zip

button below to start zipping process
Select from available options where you would want the zip to be saved (Storage Recommended)


Zip android files using Winzip 

Tap on storage, open memory card and on the root of the memory storage tap on

Zip here

and a pop up will show requesting for a change of zip name (change name if necessary to something to keep track on).
Congratulations, you have successfully zipped a folder, file, document, video, music, txt from your Android device in 2020
Let's now show you how to zip and encrypt anything on your android device using Winzip Premium apk. 
How To Zip and Encrypt Any File On Android 2020
This process on how to password lock a Zip file is quite easy and doesn't require much of a note! All you have to do is simply tick on the " Encrypt Zip File " after following the previous step upto the 2nd to the last above steps.
Now input your desired password/lock 🔒 code and confirm on the next box before proceeding to hit the OK button.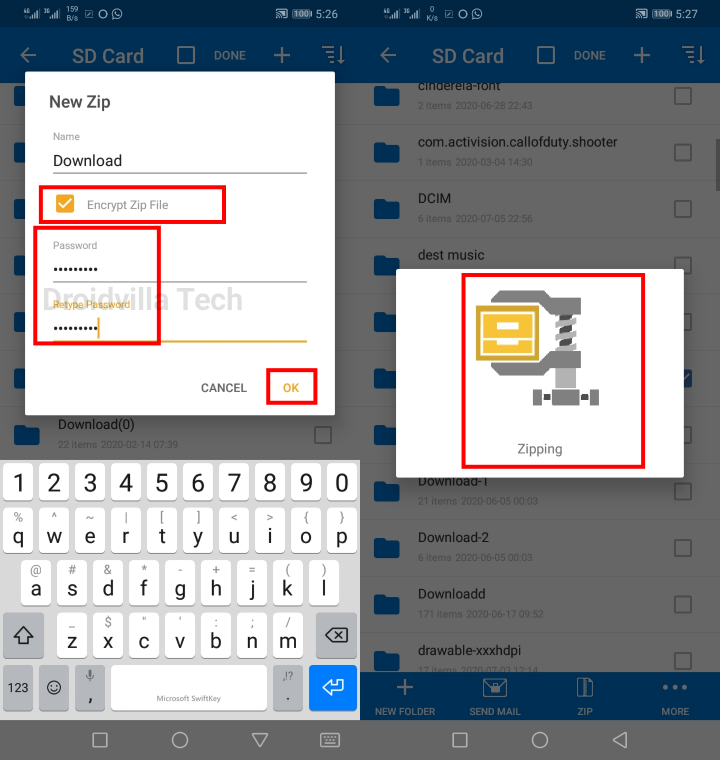 Encrypt zip file using WinZip Premium
So far so good, we have covered lot's on this one and we are pretty sure this is going to interest you one way or the other.
Thank you