The Man from Toronto is an action comedy movie, it is thrilling and quite interesting but not much to the average viewer, it is action packed with mid acting from woody harrelson and Kevin Hart
These two were not so good in this movie with Kevin who is well known for playing his usual comedic roles like he does in his other movies, the role he played is like a repetition of what he has done in his other movies like central intelligence.
The jumanji series etc with his dear friend dwayne Johnson, it is quite surprising that dwayne wasn't included in this movie as they both have an insane chemistry together.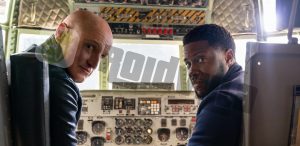 This doesn't take away how fun this movie is, it just feels like a Kevin Hart movie isn't complete without a dwayne Johnson cameo and vice versa, however, we can only hope for a sequel where they will include him, also another cast in this movie was woody harrelson.
Woody played the role of the man from Toronto, a mercenary who is sent on contract jobs to extract any information from his traget using special skills and to kill, so as the screenplay goes, at the beginning scene kevin who is fitness guru is practicing his skills and also plans to open his own facility but with continuous displaying he gets right into his comedic self, cracking jokes and falling off the platform.
Then there comes woody who is seen entering a house with someone tied up to a chair, he is about to extract an information while begging the target to tell him the answer because he doesn't want to use his pain inflicting methods.
The target refuses so woody starts telling him a story of how his father was mauled by a bear in the woods right in front of him, with eerie looking expressions, the target is forced to talk.
This is actually a fine opening scene which gives the viewers an interest of what is to come because Kevin who is a known humor master was somewhere around the corner.
The screenplay of this movie is very different because we have barely seen movies where a contract killer who is ruthless with his methods paired up with a fitness guru and became buddies, it is applaudable.
I honestly think it could have been better than what it was, there were alot of predictable scenes and not well edited fight scenes, even if it was face paced, it lacked in some areas.
Teddy Hart who is played by kevin hart is an unlucky aspiring fitness guru who loves his girlfriend Jasmine Mathews dearly. She loves him too, but his inability to kick start his career is beginning to cause some problems in their relationship.
More on The Movie Review Of The Man From Toronto 
He now decides to take her on a romantic birthday weekend to liven her and things up in their relationship, but gets the wrong directions to their lodging.
When he arrived, the patrons assume he is who they have been waiting for The Man From Toronto, a torturing, ruthless, assassin. The real Man From Toronto Harrelson bursts in at the last second and finishes the job.
Toronto wants his name back and Teddy just wants to get to dinner in time. The only thing stopping the odd couple from attaining their goals is an international network of criminals trying to kill them.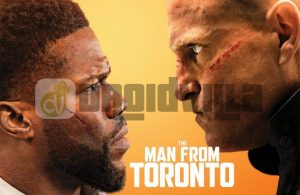 The bottom line is kevin hart has pretty declined in putting top comedic presentations, In the mid 2000s, audiences knew Kevin Hart in basic roles in plays like Along Came Polly and Party Down.
The reputation he was stacking would one day go on to be the catapult for enlarging his stand up comedy audience and opening the door for his massive film career.
The great difference between those early movies and films like The Man From Toronto is not Hart's role, but his comedic contribution coming short.
In The 40 Year Old Virgin play, Hart legitimately carries one of the best comedies he had ever done. His impact on that film is collosal and it is just a cameo.
In Scary Movie 3, he and Anthony Anderson were the best part of a franchise that was knocking on death's door, with Hart the only irreplaceable new addition to that cast.
Director Patrick Hughes who directed The Hitman's Bodyguard is very capable of making a funny Woody Harrelson action-comedy but The Man From Toronto is not it but it is manageable.
Most of all, the movie answers the fact that we still don't have the great, big budget Hart movie his career has been working towards all this while, well he still has all the tome to work something out, if only he gets really serious with whatever he got going on.
Join our telegram channel for more exciting updates via the link below ⤵️