– Reasons Tik Tok took down 49, 247,689 video on its app
– The world wide known Android/iOS app in its report attested to the fact that it took down 49,247,689 videos in the second half of 2019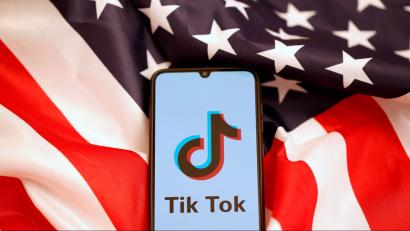 Tik Tok Us ban
Tik Tok app the chinese based video sharing app is in trouble after publishing its latest transparency report for July 1 to December 2019, the report confirms the app deletion of almost 50million video contents.
The world wide known Android/iOS app in its report attested to the fact that it took down 49,247,689 videos in the second half of 2019, which automatically makes up to more than 97% of the total expunged videos by the app before being reported by users.
Here are 6 Reasons cited by Tik Tok in its report for removing this contents;
Tik Tok reported that around 5.5 per cent of the videos expunged were because they violated the site strict rules on adult nudity and sexual contents.
The video App was also of the view that the videos deleted violated rules protecting minors, which made up to 24.8 per cent of the total videos deleted.
In its report Tik tok said "around the world, tens of thousands of videos are viewed and transmitted on Tik Tok every minute", the firm continued "with every video comes a greater responsibility on our end to protect the safety and well being of our users".
It continued " as a global platform, we have thousands of people across the markets where Tik Took operates working to maintain a safe and secure environment for everyone".
21.5 per cent of expunged videos were said to be deemed as illegal activities.
Whereby a total of 15.6 per cent of deleted videos are reported to have violated the Apps suicide, self-harm and dangerous act policy.
8.6 per cent have also been confirmed to have violated violent and graphic content.
3 per cent made up for contents understand harassment and bullying and less that 1 per cent made up for videos on hate speech.
Tik Tok and the U.S Government:
Tik Tok in its report claimed that it reported expunged 49 million videos made up for "less than 1 per cent" of all the videos created in the app, from July 1 to 31 December 2019.
Tik Tok app have been under intense scrutiny over the past few month, especially for its link to China. Over 500 legal request for user information from different governmental agencies have been reported in connection with law enforcement over the last six months.
The growth and development of Tik Tok have been threatened and it is still being threatened by different government, the videos app was banned from Indian some weeks ago, The U.S.A and Australia are also considering banning the app citing "National Security" as reasons.
The U.S secretary of state Mike Pompeo said users who downloaded the app are "putting private information in the hands of communist party ".
The U.S president also confirmed that the U.S is considering banning Tik Tok, which is being considered to be a punishment to China for its response to corona virus,
He said "its a big business. "Look, what happened with China with this virus what they have done to this country and to the entire world is a disgraceful".
The video App also indirectly directly commented about the issue in its report, said it was "committed to taking a responsible approach to building its platform, "we are working everyday to be more transparent about the violating content we delete and offer our users meaningful ways to have more control over their experience, including the option to appeal if we get something wrong" he said.
Stay updated always via Droidvilla Tech whatsapp status updates…

Tap here to send us a whatsapp message to get your number saved and get updated on our post updates directly via your whatsapp status.