You can freely determine the orientation of the screen at your space.
You can control portrait, landscape, reverse portrait, reverse landscape and also four auto directions.
Here is a paid version of Rotation
Features:
Paid 💳 
Forced auto-rotate
Forced portrait 
Forced landscape 
Reverse portrait 
Reverse Landscape 
Sensor portrait 
Sensor landscape 
Full sensor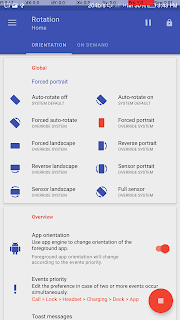 Other cool features you can find from app settings.
The option of force orientation forcefully orientates the screen. 
Note: This can save the stress of changing phone screen as a result of poured ink in some part of the screen.