Samsung Galaxy Z Fold2 Goes on Sale September 18
Samsung isn't teasing us anymore, as the company has made the Samsung Galaxy Z Fold2 official.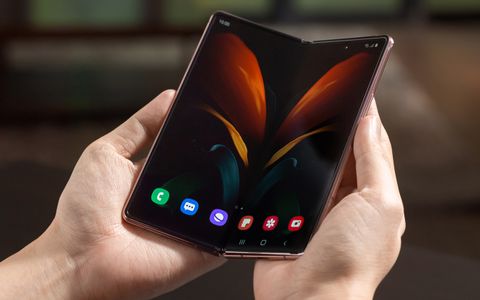 Samsung Galaxy Z Fold 2 official
The time for teasing is over; Samsung has officially announced the Galaxy Z Fold2 on Samsung.com. Most of the rumors proved to be true, and it looks like a very promising device.Of course, the first Galaxy Z Fold wasn't without issues at launch.
Hopefully, this doesn't happen with the sequel to the foldable phone, as Samsung has had plenty of time to work out the kinks and release a foldable phone that hits all of the marks.
Samsung Galaxy Z Fold 2 Features And Specs
We reported on the rumored specifications of the Samsung Galaxy Z Fold2, and it looks like those rumors were confirmed by Samsung at its Unpacked event today.
Rumor: Everything We Know About the Galaxy Z Fold2
Starting with the screens, Samsung revealed that the Galaxy Z Fold2 will feature a 6.2-inch screen on the outside and a monstrous 7.6-inch foldable screen on the inside. It features a 120Hz refresh rate that'll adjust based on what you're doing on the device.
It packs a beefy 64-but octa-core processor with 12GB of RAM. It's a Qualcomm Snapdragon 865 Plus, which is one of the most powerful mobile processors on the market. If there's something (or multiple things) you want to run on your Samsung Galaxy Z Fold2, you'll be able to do it without issue.The Samsung Galaxy Z Fold2 features three cameras, each of which looks to be quite powerful.



There's a 12MP ultra-wide lens, a 12MP wide-angle camera, and a 12MP telephoto shooter. The phone also features a 10MP selfie camera in the front.As for the power that'll keep this phone running, Samsung has included a 4,500mAh dual-battery.
As you'd expect from a top-of-the-line flagship phone released in 2020, the Samsung Galaxy Z Fold2 comes with full 5G support, so if you live in an area with the latest wireless technology, you'll be able to take advantage of that super high-speed internet connection.

Samsung Galaxy Z Fold2 Price And Availability
Such beastly specs and cool features come with a high price. The Samsung Galaxy Z Fold2 goes on sale on September 18 for $1,999.99. The phone will be available in Mystic Black and Mystic Bronze colors. You can customize the hinges in four colors as well: Metallic Silver, Metallic Gold, Metallic Red, and Metallic Blue.For anyone looking to preorder the device, Samsung has announced that it'll be available to reserve starting September 1 from Samsung.com. If you'd like to lock in a device for launch day, you can head to Samsung's website and grab one right now.