whatsapp status hidden feature 2020
Welcome once more to droidvilla tech as we shall be dropping whatsapp status tips and tricks you should know as a whatsapp user.
The Major reason WhatsApp users migrate to gbwhatsapp, is simply because of the ability of hiding viewed status and also disabling blue double ticked message and other privacy 🔏 features tips they think aren't available on the official WhatsApp Messenger.

First of all, I would like to break down what Whatsapp Is, just in case you are hitting to view this article for the first time before we shall proceed to showing you the status tips.
What is WhatsApp?
WhatsApp Messenger is a freeware, cross-platform messaging and Voice over IP service owned by Facebook, Inc. It allows users to send text messages and voice messages, make voice and video calls, and share images, documents, user locations, and other media. Wikipedia
Local man saying about whatsapp! 
Whatsapp messenger is a chat app that lets us communicate freely and connect to people all over the world at no extra charges. Whatsapp messenger uses the internet for its services.
Whatsapp Status Tips and Hidden Features:
If you have been wondering how to go about with the hidden status feature and blue tick ✅ features, or even to ghost your visibility on normal whatsapp messenger, good news just got to you as here is a summary of all whatsapp status tips and tricks in 2020.
---
Open your WhatsApp messenger
Tap on the 3 dotted icon (image 1)
Tap on settings (image 2)
Tap on Account (image 3)
Tap on Privacy (image 4)
Tap on read receipts to disable the feature. (Image 5 & 6)
---
Images steps!!!
Steps 001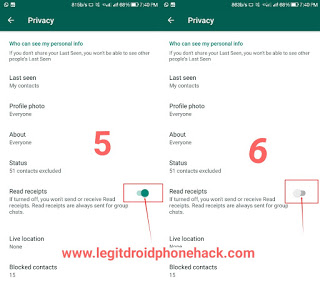 ---

Images of successfully disabling whatsapp Status view notification TIPs!

Before
After
---

Image of successfully disabling Blue message double tick icon TIPs!
Whatsapp blue tick disable
---
There are more tips to just the few whatsapp hidden features we just mentioned and for sure since we are to update this article every time we come across a new whatsapp tip.
Now you have successfully disabled blue double tick icon and Viewed status notification, there is yet another interesting whatsapp tips which lets you hide your last seen.
To hide your last seen kindly set last seen to (Nobody) and continue your whatsapp 😍😍
Note!
Disabling viewed whatsapp status also disables user from being notified of whomever viewed his/her status. When ever someone views your status after you might have disabled viewed WhatsApp status, you will not be able to see users who viewed your status. Just as they wont also be able to get notified that you viewed theirs.

Disabling blue double tick feature: Making user not to be able to know when message is been read. This feature is pretty cool, just as you might always want to snub or read messages without dropping a reply back.
You can always make changes anytime.
Hope this hidden whatsapp tips and trick was helpful, feel free to let us know what you think about our posts.