Simo Nigeria introduces Whatsapp, Phoenix and Vskit Nigeria Data Plans
How To Subscribe To Whatsapp, Phoenix and Vskit Nigeria Simo Data Plans
Whatsapp, Phoenix and Vskit Nigeria Simo Data Subscription Price and Volume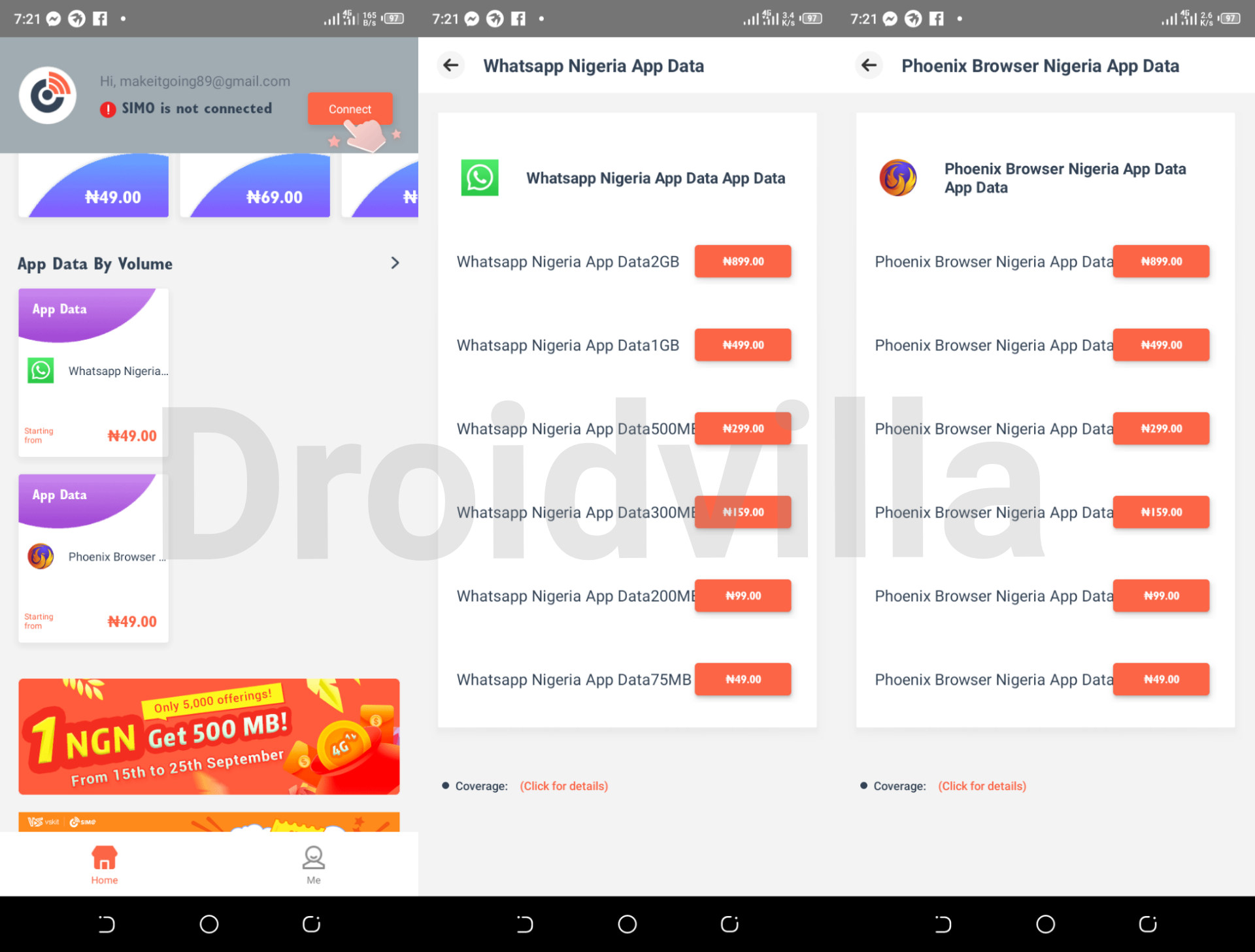 Simo app data subscription plan
Simo is at it again and with a new subscription data bundle plan added to its list of available subscriptions plans. Still ongoing, simo is giving out a whooping 500mb for as low as N1 only and this has been on for over 2 weeks now and definitely ending on the 25th of September 2020. On our recent post post about Simo 500mb for n1, we made it clear that this offer was specifically for supported devices, which we made mention of some device s that supports the simo app service.
You can as well get to read more about the simo 500mb data for as low as 1Naira only, before it ends. Also note that from the latest update on the app concerning the simo N1 for 500mb, it was noted that the offer is now left for just 1000 participants, meaning that over 4000 persons have successfully purchased the simo 500mb for just n1.♥️
Previous year, we had simo giving out free simo 10GB data and simo free 11GB data to surf the internet for free without having a sim card. Just the simo app is all that is needed to enjoy the free simo 10gb and 11gb data. 
So, back to the business of the day, simo has launched a new data subscription plans and this time around, the subscription is for WhatsApp, Vskit and phoenix browser only. As spotted lately, simo plans on bringing out more data bundle plans for more Android applications. For the now we just have the simo data bundle plans for WhatsApp, Vskit and phoenix browser.
Simo phoenix, Vskit and Whatsapp App Data Subscription Plans (Price and Volume)
NOTE THAT: Simo Whatsapp, Phoenix and Vskit data subscription plans all have the same volume and price respectively.
| APPS | Volume | Price |
| --- | --- | --- |
| VSKIT | 2GB | ₦899.00 |
| WHATSAPP | 1GB | ₦499.00 |
| Phoenix BROWSER | 500MB | ₦299.00 |
| | 300MB | ₦159.00 |
| | 200MB | ₦99.00 |
| | 75MB | ₦49.00 |
How To Subscribe To Whatsapp, Phoenix and Vskit Nigeria Simo Data Plans
You can get all this subscriptions done directly on the SIMO application and believe us when we say SIMO data subscriptions are way valuable optimized. What this means is that, simo 75mb is 75mb, 2gb is 2gb, 1gb is 1gb, unlike most network providers which give large data volume but is not actually the real value when used.
Do let us know if you have any difficulty trying to purchase to any of the above simo latest Whatsapp, Phoenix and Vskit Nigeria Data Plans.