Tecno pouvoir 4 pro specs and price
What comes to your mind when you hear a new device is been produced? Obviously, very few will consider a good battery capacity and this is just what you will need. Tecno reveals the beast device to be Pouvoir 4 and pro with battery capacity of 6000mAH, a mind blowing device to house such battery capacity.




TECNO Mobile has unveiled a new plus to its Pouvoir series known for its huge battery capacity. The new TECNO smartphone, Pouvoir 4 and pro, houses a huge 6,000mAH battery capacity. More details from TECNO reveals that, the battery capacity of the pouvoir 4 is capable of powering the phone for four days straight with just a single charge. There is actually more to the pouvoir 4 than the previous pouvoir 3.
Revealing key features of the Tecno Pouvoir 4 in regards to its amazing benefits for the user,
Tecno pouvoir 4 pro
"This device is really great when it comes to gaming or watching movies. It can charge under 3 hours with the 6,000mAH battery".




Just if you need a good Android device with long lasting battery life for movies, streaming, downloading, chatting or even for calls, then getting The Pouvoir 4 is the perfect yes for you as it is backed by a massive 6,000mAh super battery and long standby for 4 days.
Good enough, the pouvoir 4 comes with a 18W speed charge support, which lets you get a full charge in no less than 3hours only. Noted that the device offers 792 minutes of movie watch time, 516 minutes of video recording and 628 minutes of gaming. Indeed, the pouvoir 4 is just what you need! The awesomeness and perfection is in no doubt.
Features Of Tecno Pouvoir 4 Pro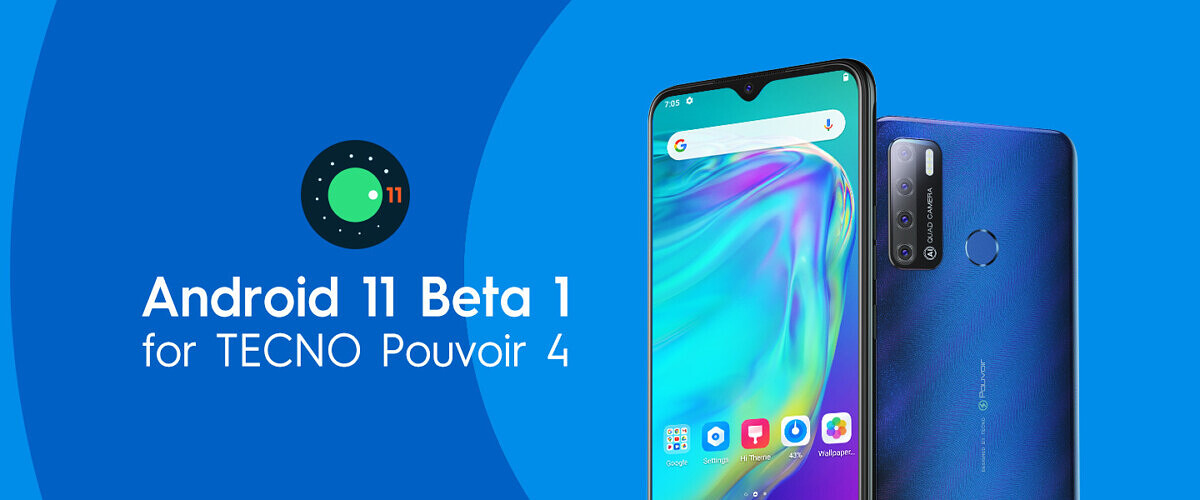 Tecno pouvoir 4 pro 11 beta
6000mAh Battery
7" Dot Notch Screen
Dual Stereo Speaker
128GB ROM + 6GB RAM
Magic Key
Off Screen Mode
Game Mode Optimization
16MP AI Quad Camera
High Definition Video Recording
2.5cm Macro Photography
AI Bokeh Effect
16MP AI Selfie Camer
Brighter in Low Light Scenario
AR Sticker
AR Emoji
GIF Expressions
Colorful design + Elegant appearance
Dark theme
Initiating An Approach to Smart Life
6000mAh Battery , 18W Fast Charger , Powerful Than Ever
6000mAh super battery, long standby for 4 days, perfectly meets your various needs of power supply for daily routines. Truly powerful enjoyment. The 18W speed charge allows you restore power in less time. Charging becomes faster and more convenient.
Cinematic-like visual experience on 7" Dot Notch Screen is here! More exciting entertaining enjoyment, letting you immersed in stunning video effects.
Dual stereo speaker and digital sound effects based on acoustic measurement and correction bring you high quality immersive entertaining experience no matter you are using earphones or playing it out loud.
128GB big ROM provides more space for you to store your favorites. 6GB fast RAM ensures better gaming experience, fluent and fast, no more delay. Enjoy smoother gaming and easier multitasking.
Special design of volume key. We made it as the Fire key with fancy animation effect in order to promote the shooting experience and accuracy in the gameplay.





Off Screen Mode
Aiming at hook games, off screen mode enables you to run the game even when the screen is off, saving more than 50% power.
Game mode has significantly improved with better interactive experience. Message optimization lets you quickly browse the important messages without disturbing your gaming experience and winning records.
Loaded with 16MP clear lens and F/1.8 big aperture, every shot taken by Pouvoir 4 Pro is clear and bright enough and has the potential to be a blockbuster. Supporting 8X digital zoom function and 77° shooting angle, keeping grand scenery and its details are all within reach.
7" High Definition Video Recording
The 16MP clear lens also supports high definition and 115° wide-angle video recording. Better light recognition presents more details even in low light scenarios, ensuring fine output quality. Not only wider photo can be taken, but also wider and better video.
The close-up shot lets you discover the unseen beauty of the minor things around you. Reveal the wonders of nature in every little details.





Background Bokeh Effect has been fully upgraded, giving portraits better focus in the whole picture along with processing details carefully.
Featured with 16MP AI Selfie Camera and excellent camera sensitive elements, every shot gives a clear and beautiful selfie. F/2.0 big aperture captures more light from the environment. 78° selfie angle enables you to take wider selfie, big portrait of family and friends is easier to get.
Brighter in Low Light Scenario
Dual front flash + Quad rear flash, effectively solves the problem of dim photos in low light environments. Adjustable flash design enables you choose the brightness as you like. The flashes also work in video recording status. Fearless of the dark scenarios, photos and videos would always be bright and clear.
12 more unique and fun AR Stickers of Manchester City Football Club have been added. When you are taking photos or recording videos, choose your favorite stickers and enjoy more fun.
Capture 47 kinds of facial muscle movements and generate your own DIY expressions. Supporting photo and video version, come and share with your friends!
For much funnier social interaction, we have launched GIF expressions. Especially designed as TECNO x Manchester City Football Club version, generating fun GIF expressions on one click.




Colorful design + Elegant appearance
Getting inspiration from river of stars, Pouvoir 4 Pro offers three stunning gradient colors for you to choose. Exquisite textural lines and colors collide and change in different environment light. Continuing the style of business and technology, adhering to the straight and elegant design ideas, the whole appearance of Pouvoir 4 Pro shows the essence of cool and gentle.
New Dark Theme not only reduces the screen's irritation to the eyes, but also saves energy and extends battery life effectively.
Initiating An Approach to Smart Life
Click the Google Assistant Button on the body side, and tell it what you want. News, messages reminder, weather broadcast, alarm, translation and more daily functions could be activated. Information in different fields are easily searched and found.
Key features of the Pouvoir 4 PRO
Display: 7″ HD+ Dot Notch Screen
Dimension: 174.9x 79.6 x 9.2mm
Operating System: Android Q
Storage: 64GB, expandable up to 128GB of microSD card slot
RAM: 4GB RAM
Cameras: Back camera: 16-megapixels main camera
– Front camera: 16-megapixels selfie camera lens
Processor: Octa-core 2.0GHz processor
Battery: 6000mAh Battery
XDA- Dev noted that, the Tecno Pouvoir 4 pro is the first smartphone with a MediaTek SoC to get Android 11 Beta 1 build.
Further providing a link to download the beta 11 version which can be downloaded below.
Download Android 11 Beta 1 for the TECNO Pouvoir 4






Tecno Pouvoir 4 and Pro Price in Nigeria (

₦)
The TECNO Pouvoir 4 Pro comes in 3 colour variants Cosmic Shine, Ice Jadeite and Fascinating Purple. The device is currently on sale at jumia online store for a giveaway price. This device can also be purchased at tecno authorized stores like Icon Mobile, Slot, Pointek, 3C Hub, and many others. To know more about the Tecno pouvoir 4 pro you can always visit droidvilla tech!!
The tecno pouvoir 4 cost ₦54,500 naira for the 3GB RAM and 32GB while the Tecno pouvoir 4 pro cost ₦64,500 naira with 4GB RAM and 64 GB internal storage.