Genius Whatsapp putting measures to enable "Android to iOS" transfer possible
This year, WhatsApp has been releasing a lot of features that has made end users so excited and has increased it's usage
WhatsApp just recently rolled out a recent update through a program called the TestFlight beta Programme. This programme is aimed to allow users to migrate their chat history from Android to iOS as soon as it has been approved.
"Android to iOS" Transfer For WhatsApp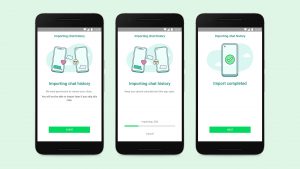 "WhatsApp is recently trying out a feature that will allow users the right to move your chat history from WhatsApp for Android to iOS, for a future update!"
According to the platform that keeps an update about the instant-messaging app, users would be able to migrate their chat history from iOS to Samsung devices.
"WhatsApp and Google have put in place to enable the aid for moving your chat history from iOS to Pixel phones,"according to popular reports, in addition to this Android 12 devices will receive aid to get the chat history from iOS at a later date.
Broadcasting screenshots of the development, the site took note of the fact that they had previously noted the ability to transfer the chat history from Android to iOS, "available in an upcoming update, but there was no updates on iOS."
"As seen on this screenshot, WhatsApp will request for your permission in order to import the chat history before starting the process," as was reported.
Moreover, Reports further noted that sadly, this feature is currently not available right now, and do not support operating systems are yet to be unveiled.
You can visit our telegram channel for more recent updates http://t.me/droidvilla