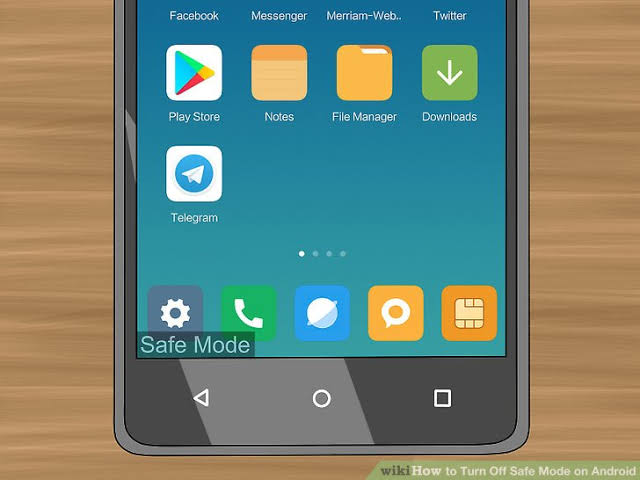 Turn off safe mode
The Safe Mode on Android is a security feature which you can turn on to make sure intruders doesn't access your personal data. In this case, once the Safe Mode is activated, all third-party applications installed on your device are disabled(can not be accessed until the Safe Mode is deactivated).
Although it is a security feature, which most times gets activated by mistake or faulty side buttons.
Safe Mode may at times turn on without you knowing exactly what caused it. If that be your case, follow this guide to turn it off.
Safe mode can be disabled in so many ways but here are the best three easy and sure ways of deactivating safe mode on Android.
How to disable safe mode on Android: 3 possible ways
Below we are sure of this three ways of which you can get safe mode disabled.
Disable safe mode on Android by restarting the device
This is the most common and easy method of disabling the safe mode. It is undoubtedly true that restarting your Android device at times helps correct some system glitches.
Restart device by pressing and holding the power button for a couple of seconds. You should see some options pop up. Choose "Restart Option". In some old Android devices, the restart option may be lacking.For old Android versions, you can restart by pressing and holding down the power button for about max 60 seconds, or by pressing and holding the power button and then the volume down key.
Disable Safe Mode by shutting down all power.
Disable Safe Mode by shutting down all power.
Alternatively, you can as well disable safe mode on Android by shutting down all power.This can be actualized by removing the battery and reinserting it back. After then you can power on the device again. This would work only on Android devices with a removable battery.
For those who have inbuilt battey, you should long press the power button 🔳 for about 60seconds or more without removing your hand. Wait for it to shut down and turn on again before removing your hand from the power button.
Using key combination to disable safe mode
You can for sure as well disable safe mode on your Android device with simple key combinations! This involves using the power key and the volume down key. Here are the steps;
Hold power button
Select "Power off" from the options menu.
Wait till the phone is completely powered off.
Now power it on and once you see the device logo, release the power button, press and hold the volume down button immediately for about 60 seconds.
If successful you should see a messge like "Safe Mode off" or something similar to that.
Note:
Safe Mode can be caused by either system issues, stuck buttons or corrupted apps as well as other buggy issues. The methods listed above should suffice to help you quickly fix this problem.
Restarting your device should be the very first thing you do whenever you are confronted with this problem.Don't forget to subscribe to our newsletter for more exclusive update.