Antidelete(whatsapp)
Getting to know about Antidelete is one official whatsapp saving application which lets you view whatsapp deleted messages even if they are deleted by the contact. Don't doubt Antidelete because the main feature of this application is to help recover all messages back when your whatsapp contacts deletes them for you.
Now no need for gbwhatsapp on this one, all you have to do is simply install Antidelete app below and grant access when required. Whenever your whatsapp contacts delete already sent messages, you will be notified on the third-party app, where you will see the message been revoked by your contact and can now view the deleted messages.
About Antidelete [ view deleted whatsapp Messages]
Antidelete allows viewing WhatsApp messages/chats even if sender deletes them.
Antidelete allows viewing WhatsApp chats if sender deletes them after sending by saving them. Isn't it cool?
Antidelete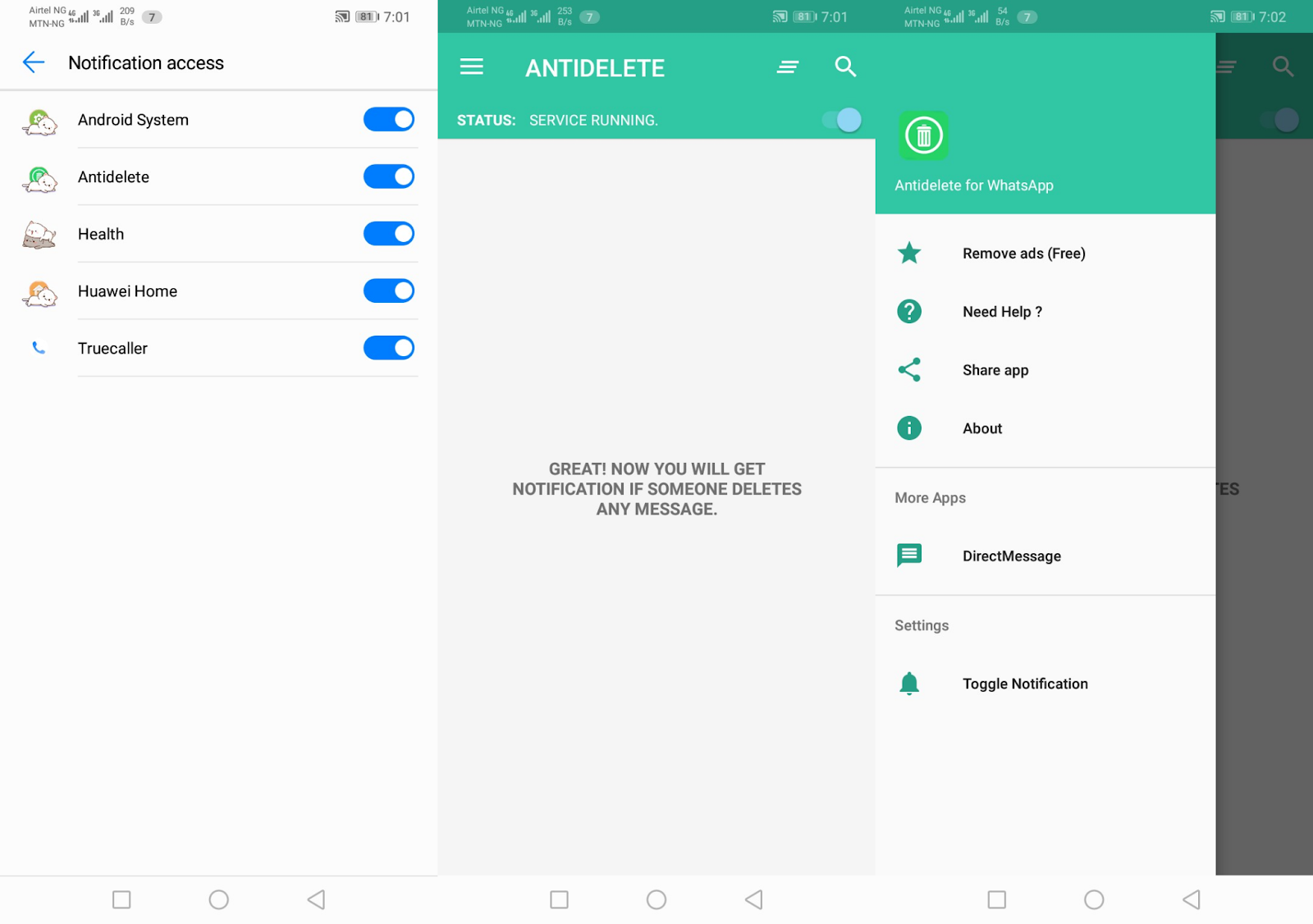 Ads free
Key Features Of Antidelete:
– Modern UI Design
– One click to start service
– Notification if someone deletes message
– View deleted chats easily
– Delete messages after reading or clear all at once
– Straightforward functionality
Download Here
How Antidelete works [View deleted whatsapp messages]:
Start the Antidelete Service by clicking on switch.
Status will change to "Running Service" once activated.
Now app will secure every message when you are away from Whatsapp.
You will get a notification if someone deletes his/her message.
To check deleted chats just open the app and check them out.
Note
Xiaomi/Oppo/Vivo/Huawei or devices with Autostart manager users need to give Autostart permission else it will not work properly.
This will only work if you have not seen the message and internet is connected.
This app cannot retrieve messages already deleted before service was started.
Recovery of deleted photos & videos is not possible as of now.
WhatsApp™ is a trademark of WhatsApp Inc.
Antidelete for WhatsApp is not affiliated with, or sponsored or endorsed by, WhatsApp Inc.
Whats New?
WhatsApp Business support!
Notification alert if someone deletes a message!