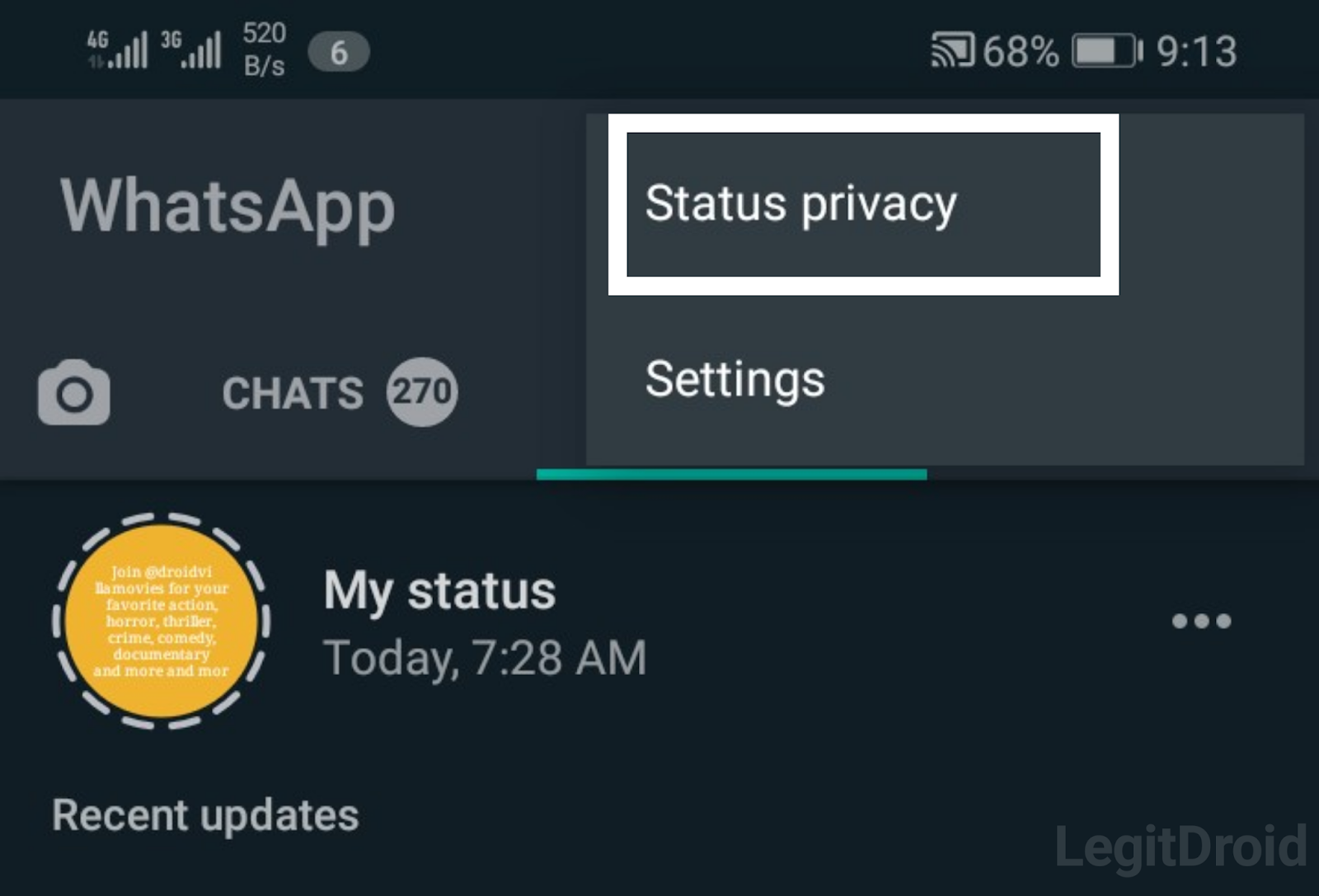 Whatsapp status privacy
Hoping this would definitely resolve lots of issues and worries to most whatsapp messenger users.
We all one way or the other have contacts who are annoying and always wanting to scold or talk ill about our status whenever we upload.
Do you have a jealous girlfriend, wife or boyfriend who always checks on your status back to back, looking for status update that would definitely cause little or more quarrels in the relationship? Or do you wish to upload a particular status to reach out to just a particular contact or set of selected contacts?
Funny enough this feature has been available for months now and only few users make good use of this feature, and we must say it is a big Saving relationship feature 😂.
Gist
I remember a friend who always sends a message through her whatsapp status to me.
I was wondering why she should be posting such publicly, until I was smart enough to find out the status was privatized just for my view only.
So today droidvilla.com is making this post solely for the purpose to save many relationships😂 and to prevent scolding.
How to privatize your whatsapp status to just a contact or selected contacts-
Just if you are thinking of blocking someone so he/she doesn't see your status, you can easily restrict that contact from your Status whenever you make an update.
1. Navigate to WhatsApp
2. Select Settings
3. Select Account
4. Navigate to Privacy
5. Tap on Status and choose available options from the pop up menu
You can also set this directly from your status update section.
1. Swipe to status update
2. Tap on the three dotted icons at the right top side.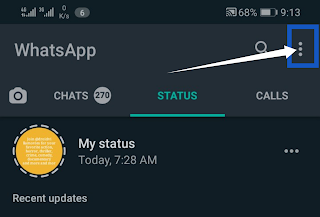 Tap on three dotted icon
3. Select status privacy and choose on the option that suits you.
Status privacy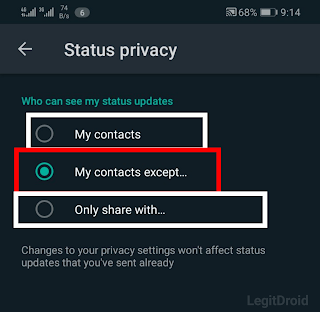 Choose from above options
All your contacts would see your status!
All contacts would see your status and those you select in this option won't see your status.
Hide status from—
This option lets you specifically choose contacts you wish to share your status with at that instant time.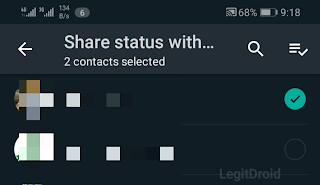 Share status with
So finally you have successfully privatized your status to just a contact or selected contacts as the case may be.
Now you can take pictures and privatize them to just a particular contact to make them feel special and happy, without having to think of what others would say or not.
Note that: After setting a privacy and making the status update, you can immediately switch back privacy to normal and you are back on track. 
If after privatizing your status and you don't switch it back to normal, all your status update would be privatized to just that contact. 
However, make sure to always change back privacy settings whenever the deal is done.
Don't forget to subscribe to our newsletter for more exclusive update. 
Originally posted 2020-02-24 09:15:00. Republished by Blog Post Promoter