GBWhatsapp ban threat: WhatsApp to begin deletion of users account with modified WhatsApp apps on their respective phones.
This definitely could be the last warning against the use of Modified WhatsApp applications.
WhatsApp is used daily by more than 2.5 billion people, which confirms its status as the most popular mobile app.
Also Read: How to backup chats from unofficial whatsapp apps and restore them to official whatsapp app without losing chats



Also Read: 2 Easy steps to export and restore whatsapp stickers to WhatsApp
It's still not the best instant-messaging platform, but it is the most widely used.
Why the Gbwhatsapp ban threat?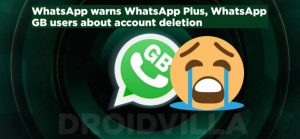 Telegram and other rivals have more functions. This has led to the increasing availability of third-party, modified WhatsApp versions, such as WhatsApp Plus, Yo WhatsApp, Aero WhatsApp or GB WhatsApp that give users access to additional features that the official app does not offer.
Amazing functionality seen available on the mod whatsapp versions allow WhatsApp account holders to create auto-replies and schedule messages; send more photos simultaneously; turn off the blue tick message-receipt for incoming messages; and see if other WhatsApp users have received them.




Is WhatsApp account temporarily banned?
You may have received a notification saying that your WhatsApp account was "temporarily blocked".
This could be due to you using an unauthorised WhatsApp version. Your account may be permanently blocked if you continue to use the unofficial whatsapp version after being temporarily blocked.
WhatsApp further warns about security risks when using unofficial versions
WhatsApp states that "unsupported apps" such as WhatsApp Plus, GB WhatsApp or other third-party apps that claim they can move your WhatsApp chats between devices are modified versions of WhatsApp.
These apps, which are not official, were created by third parties and infringe our Terms of Service.




The company warns about the dangers of downloading unofficial apps. It says that "WhatsApp won't support third-party apps" because they aren't validating their security practices.
WhatsApp Plus and GB WhatsApp apps can only be downloaded from official sources – they won't be available in the Google Play Store – this exposes users to a higher risk of malware being installed onto their phones.
To be able to download the app, you will need to disable certain security settings.
How do I change to the official version of WhatsApp to avoid Gbwhatsapp ban
In regards to the gbwhatsapp barn threat update, here are step-by-step instructions on how to backup chats from modified WhatsApp applications (Gbwhatsapp, yo WhatsApp, aero WhatsApp and the likes) to the official WhatsApp app without losing chats, groups and stickers.




Join us on Telegram