Looking for possible ways to Change NIN Date Of Birth, if inputted wrongly?
Here is the easiest and safest method to Change NIN Date Of Birth (DOB) or any other when applying for a National Identification Number (NIN)? Or did you just find out there was an error in your date of birth after printing your prototype?
Many people often encounter errors and omissions when registering their NIN. The good news is that there is an easy solution for you.
The National Identity Management Commission (NIMC) has informed the public that people with incorrect data in their national identification number can now proceed to correct their data in the NIMC database.
While NIN registration is free, there will be fees associated with other services such as date of birth correction, card renewal, and address change. Having an incorrect date of birth on your NIN slip can negatively affect any application process that requires your NIN.
Therefore, correcting the date of birth on your NIN should be done immediately. In today's article, I will show you how to Change NIN Date Of Birth.
How To Change NIN Date Of Birth (DOB) – NIN date of birth correction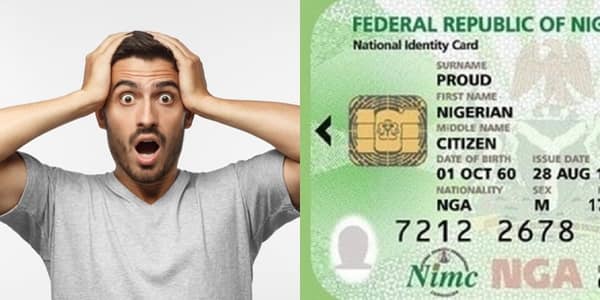 If the date of birth on your National Identification Number (NIN) is incorrect, you can follow the procedures below to Change NIN Date Of Birth.
Step 1: Find the NIMC office closest to you with the necessary documents to modify the data. You must bring the following documents to change your date of birth
The original NIN issued to you
Print Remita Recovery Reference Number (RRR)
Letter requesting a change of date of birth
 Step 2: Request and complete the data modification form
 Step 3: Once completed, submit the form and supporting documents to the registrar
 Step 4: Your information will then be entered into the NIMC software by the registrar
 Step 5: Check the entered information you have provided to avoid any errors or mistakes
 Step 6: The registrar will then enter your biometrics
 Step 7: The transaction slip will be printed and given to you by the registration staff.
Step 8: Your previous NIN form will be submitted to the NIMC office
 Step 9: Visit the NIMC office in 2 days to receive your new NIN voucher
How To make NIMC Bills Using TSA Bills Through Remita
Payments for the change of any statistics in your NIN need to be made the usage of TSA bills thru Remita. TSA stands for Treasury Single Account. It is the reliable medium via which bills are made into the direction of the Federal Government.
You can your TSA bills via any of the to-be-had alternatives:
Debit CardDate of Birth on NIN
Bank account (UBA and Sterling bank)
Bank department the usage of RRR
USSD code
Internet Banking
Remita
PAGA supported Wallet
Phone quantity supported with the aid of using PayAttitude
How To Make Charge For Alternate Of Date of Birth On NIN
To make the specified charge for the correction of your date of beginning on NIN observe the techniques below:
Step 1: Go to remita.internet to start the charge process
Step 2: Click on "Pay TSA&States"
Step 3: Select "Federal Government" and shape the displayed option
Step 4: Navigate to the "What do you need to pay" option, and absolutely kind in "National Identity Management Commission".Npower Recruitment
Step 5: Under the "Name of service/purpose" option, you`ll see "correction of date of beginning" click on it
Step 6: On the remita platform, the correction of the date of beginning indicates N15,000.
Step 7: Fill on your name, telecellsmartphone quantity, e-mail address, and different alternatives to be had
Step 8: Click on "Verify" (tick the re CAPTCHA checkbox first)
Step 9: Click on "Submit" to continue to charge
Step 10: Select your chosen charge method
Step 11: After making the charge, take the charge receipt to the NIMC workplace to finish the manner for the correction of your date of the beginning
What else can I change on my NIN? Some dates on the NIN are subject to change and each has its own change fee. However, not all data contained in the NIN can be changed.
A NIN has updatable and non-updatable fields. Let's look at NIN updatable and non-updatable fields.
Here are NIN Fields that can be updated:
 Surname
 Date of birth
 address
 phone number
 Place of Birth – StateJAMB Form
 Place of Birth – LGA
 Country of origin
 Origin – State
 Birthplace – Village
 Origin – LGA
 father's name
 Father's hometown or village
 Father's country of origin WAEC result
 father from LGA
 mother's name
 mother's hometown or village
 mother's country of origin
  LGA of maternal origin
NIN Fields That Cannot Be Updated:
sex
 no
 registration status
 Registered LGA
 registration center
 station
 voting unit
 date of death
 tracking number
 registration date
 loading center
 ID card number
 applicant's fingerprint
 Applicant Fingerprint Reason
 applicant's signature
Join Our Telegram Channel For More Exciting Updates Via The Link Below