Here is another amazing Android developer trick we fished out and found it's worth sharing to our visitors.
We previously made a post on how to speed up your Android devices 100%, and we got lots of amazing comments on how great it improved there device performance.
You can check on it
HERE
.
So let's go straight to the deal of the day. Today's trick would change the look on your Android device and for sure it's your choice to keep it or change it back to default anytime.
How to customize Android display color :-
✅Android developer option must be activated.
You can see how to activate developer option
HERE

!
✅When done open
DEVELOPER OPTION
✅Activate developer option by ticking the
ACTIVATION ICON
✅Now scroll down to where you see
SIMULATE COLOR SPACE
✅You will find 4 options of different color display, select each, one after the other to choose which is great for you.
Simulate color space
Disabled ☑️
Monochromacy
Deuteranomaly (
red
–
green
)
Tritanomaly (
blue
–
yellow
)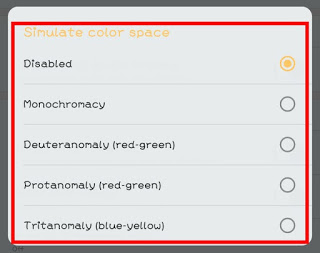 Just simple and works flawlessly with RAM 3gig+ and processor 1.4ghz+!
Note: If you experience lag, kindly follow this step to speed up your Android device.
Click
HERE
Don't forget to share below using the share button, and for sure do subscribe to our newsletter for instant mail update delivery. We guarantee you spam free!