– Download Whatsapp Animated Stickers With This Simple Steps
– You can delete whatsapp animated stickers / Stickers
Whatsapp animated stickers download
There is no more wait or anticipation as whatsapp officially rolls out Animated stickers feature to all whatsapp users. You can get a flash back on our recent update in regards to whatsapp plans on getting down 4 big new updates into its messaging application which includes Whatsapp web dark mode, Animated stickers, Add new contacts with QR codes and lastly Expand a video during group calls.
We are most happy and glad to inform you that this features are currently active and updated on respective appstores for download and update.
We shall be dropping articles on how to activate each newly latest release of whatsapp updates starting from the availability of Animated stickers introduced on whatsapp messenger to make chatting more fun just like telegram having animated stickers for years now, down to expand a video during group calls.
Suggested Article For You: How To Secure Your WhatsApp Account Using 2FA authentication
Just if you loved telegram so dearly most especially for the animated stickers, then we probably guess you should also try the new integrated whatsapp animated stickers as Droidvilla Tech will guide you on how to easily download animated stickers on whatsapp.
How To Download Animated Stickers On Whatsapp [Image Guide]
To start downloading and sending animated whatsapp stickers to groups/private contact chats, kindly do ensure you update your whatsapp from PlayStore or Appstore and follow steps below.
After you might have updated your whatsapp to the latest version on whatsapp, kindly open whatsapp messenger. (If not updated please do so before proceeding)
Now open a personal contact chat or group
Tap on the smiley ☺ icon located at the left down side of the chat screen
Now navigate to the Sticker icon at the down right side of the chat screen
Locate and tap on the ➕ icon at the top side of the chat screen just immediately afte the keyboard height.




Download whatsapp animated stickers
On the all stickers section, you can see lots of stickers as you scroll, simply tap on any sticker pack you desire and to confirm if they are all animated, just tap on any sticker inside of the selected pack to preview.
Once confirmed as the animation plays ▶, simply tap on download and wait for less tgan 20 secs for it to complete download.
Whatsapp animated stickers
After successfull download, you can now see all animated stickers amongst other stickers present on your whatsapp gallery.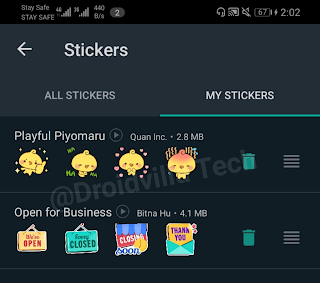 Whatsapp stickers download
How To Delete Whatsapp Stickers / Animated Stickers On Android and iOS
What happens if you mistakenly download the wrong whatsapp stickers pack? We will ne showing you how to delete whatsapp animated stickers for both Android and iOS as they are both same way.
Open any whatsapp chats either personal or group
Locate the smiley icon and tap on the sticker section 
Now swipe left to select "My Stickers" 
Here you should see all your stickers pack, now simply tap on the delete icon button to excute action immediately.
Best Whatsapp Animated Stickers Pack You Should Download
The best animated whatsapp stickers I find so helpful and amazing is the Whatsapp business animated stickers. This stickers pack comes with loads of stickers about business, like we have the " We are Open", "closing soon", "Thank you", How Much and lots mkre amazing business animated stickers.
Follow Droidvilla tech on  for daily updates on free browsing cheats, Android apps, Tips /Tricks and more.
Stay updated always via Droidvilla Tech whatsapp status updates…

Tap here

 to send us a whatsapp message to get your number saved and get updated on our post updates directly via your whatsapp status.