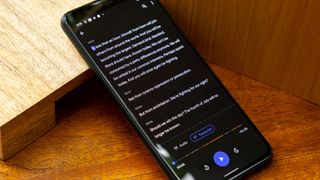 One of the big new features of Google's Android 10 update, which is now live on all Pixel devices and a growing list of other Android phones, is Dark Theme.
It's essentially a dark mode for your whole device that flips the color palette of all menus and nearly every native Google app, including YouTube and Chrome. It also works with some third-party apps such as Instagram and Reddit – expect the list of supported apps to expand over time too.
Google also says Dark Theme improves visibility for users who are sensitive to bright light, or those with low vision. Plus, it's generally good practice to avoid having a glaring phone screen in low-light conditions and at night, so it might be worth flicking it on in the evening.
But we're here to show you how to use Dark Theme on your Android device, and if you follow the steps below you'll be able to do that with ease.
How to activate Android 10's Dark Mode
Method 1: Change your System Settings
Don't forget to subscribe to our newsletter for more updates and tricks.