MTN N2000 for 8.7gig
Goodnews from Droidvillatech to everyone viewing this, as you can now
get MTN 8.7gb for just n2000 on mtn 100% phone bonus offer 2020.
Not forgetting we recently posted about MTN 100% data bonus and I guess it wasn't taken that serious, but I think it should be taken too serious now because its now freaking working flawlessly and worth doing.
How To Get MTN 8.7gb for N2000




From previous post HERE I made it known on how to go about the 100% data bonus.
Now you have to get it done before proceeding to next next step.
#2000 for 2.5gig and 1gig(1am – 7am)
With 100% Phone Data Bonus you get double.
To my suprise, instead of 6gb data, I got whooping 8.6gig +.
2560+5120+1098=8718mb aprox 8.72gig for #2000 onl y.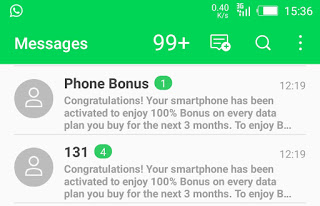 MTN N2000 for 8.7gig
How To Get MTN N2000 for 8.7gig
How To Get MTN N2000 for 8.7gig
Meaning if I did n3500 for 5gig, i will be given a whooping data of 15gig +.
Amazing and working flawlessly.
Feel free to drop a comment or join us on our official telegram group and channel for easy contact and discussions.