Looking for an app that helps to recover deleted Android files, documents, videos, images, etc?
If yes, then you are on the right page for this.I introduce to you
Undeleter.apk!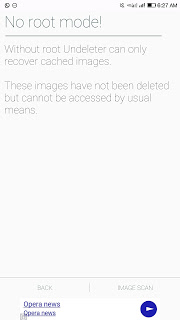 💡Undeleter is an app, just as its name indicates, lets you recover files and documents you thought were gone forever.
It also gives you the possibility to permanently destroy any type of file, to prevent them from being recovered by the use of any app like this one.
The interface in Undeleter is clear and organized.
Its three main features are perfectly separated:
restore files,
restore data, and
Destroy documents.
With the restore files, you can recover images, audio, or video files that you've deleted from you device.
The restore data option lets you restore data from other apps and SMS.
The destroy document feature lets you permanently destroy any file stored on your Android.
How to recover deleted Android files: See how
Undeleter works only on rooted devices meaning that, the application requires RootAccess to be able to function.
---
Size: 17.1mb
Extension: Apk
Tool
Requirements:
ROOT ACCESS
---
Download and grant Root access💥💥💥