Stop twitter autoplay videos to save data consumption
Twitter is getting closer to being amongst the top 10 most active social platforms in the world.
If you are a constant Twitter user, you must have noticed the Twitter autoplay video, which literally consumes more data and of course wastes data on videos you just don't want to watch.
Droidvilla knows it is quite annoying and yes we found a solution, as usual, cheers.
Just if you have been looking for a way to stop video autoplay on Twitter, this article is the one-stop solution for it.
How to disable/stop Twitter video autoplay
Going through the Twitter settings, we further found more interesting features that we are pretty sure might be of interest to you.
However, we will talk about that just after we must have shown you how to stop Twitter's autoplay video.
Open the Twitter app for iOS or Android
Tap on Profile Icon
Tap on settings and support
Tap on settings and privacy
Tap on Accessibility, display, and languages
Tap on Accessibility
Scroll to Motion and tap on video autoplay, and finally select Never…
You can as well set Twitter video autoplay to Only on WiFi.
The easiest way to stop Twitter video autoplay
This is a straightforward way to turn off the auto video play on Twitter.
Open the Twitter app, tap on the profile icon, now tap on settings and Support and then tap on settings and privacy. Finally, tap on Accessibility, display, and languages, then tap on Data Usage, and now you can see the Video autoplay option, simply tap on it and turn it off…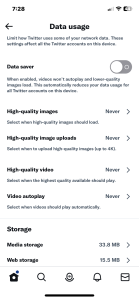 However, you can as well turn off other features as listed below.
High-quality images
High-quality image uploads
High-quality videos
Video autoplay
More Twitter tips/tricks
Increase color contrast
Magic Tap Action
Open links in reader view, and many more…
That is all for now…
Do you like this post? Share this article using the share icon button below…
Join our active telegram channel below