Best MTN data Offer
This should be a must read for all MTN users out there, just as hundreds of thousands are been heart broken from the audio data MTN offers at a more cheaper price with a data sucking vamp accompanied at the end.
Also Read:
How to get free 1GB data on MTN NG
Just if you stumbled upon this post by chance or you were referred by someone, do be thankful for such a nice gesture by the someone.
Not too long we got a DM from a whatsapp member on our whatsapp group, complaining on how she spent over N2000+ for data subscription on MTN just a day.
In her voice record sent to us:
Please eh, I need a favor from you. MTN is really killing me! I have subscribed like, I have used 2k to subscribe only for today, as in total gig is 3gig and everything has finished, I dont know what to do, please give me a code that I can use to subscribe that they will not be eating my data much, please.
This was a voice record sent to us and just after, we made a screen recording of the voice and made a whatsapp status of it. Not quite long another member of the droidvilla group sent a message with his personal experience and urged us to give it a try before releasing it out to the public.
So getting to go after just what he recommended, we are glad to say that indeed there is a big difference (7up) in each data subscription MTN offers.
One thing to note about us (Droidvilla.com)
We take our followers, members, and visitors request personal and getting a solution to their requests is our number one priority.
Also note that: In droidvilla.com, there is no trial and error, as long as we publish something here, it must have been tested and confirmed by 2 or 4 admins in our beta testing whatsapp group.
So we did a test on two data subscription outside the recommended offer by our whatsapp group member and finally on the recommended and we got it so legit real to withhold from our fans.
Also Read:


How to get free 1GB worth of data from Airtel NG

Without further ado, here is the best data offer on MTN that lasts 100%
The best data offer on MTN is currently the 2.5GB for N500 when you subscribe directly from MyMTNApp and also the 2GB for N500, when you subscribe directly using USSD code.
Furthermor, as far as we can tell after the test, this data subscription offer is 100% data consumption optimized. The rate at which the data is consumed, is far better and valuable than any other data subscription.
MTN winback data offer for N200 for 1GB and N1000 for 4GB is a total scam.
Having said this, don't doubt droidvilla.com when it comes to things like this, we are verified in what we do and this is our profession, we take the risk to get a solution to problems we face.

How to subscribe to MTN N500 for 2GB via USSD code
MTN USSD
To subscribe using USSD,
simply dial *131#
Select 1 (ok)
Select 1 (ok)
Now select 99 (ok)
Finally choose the number (7) for 2GB offer valid for 2 days.
How to subscribe to MTN N500 for 2.5GB via MyMTNApp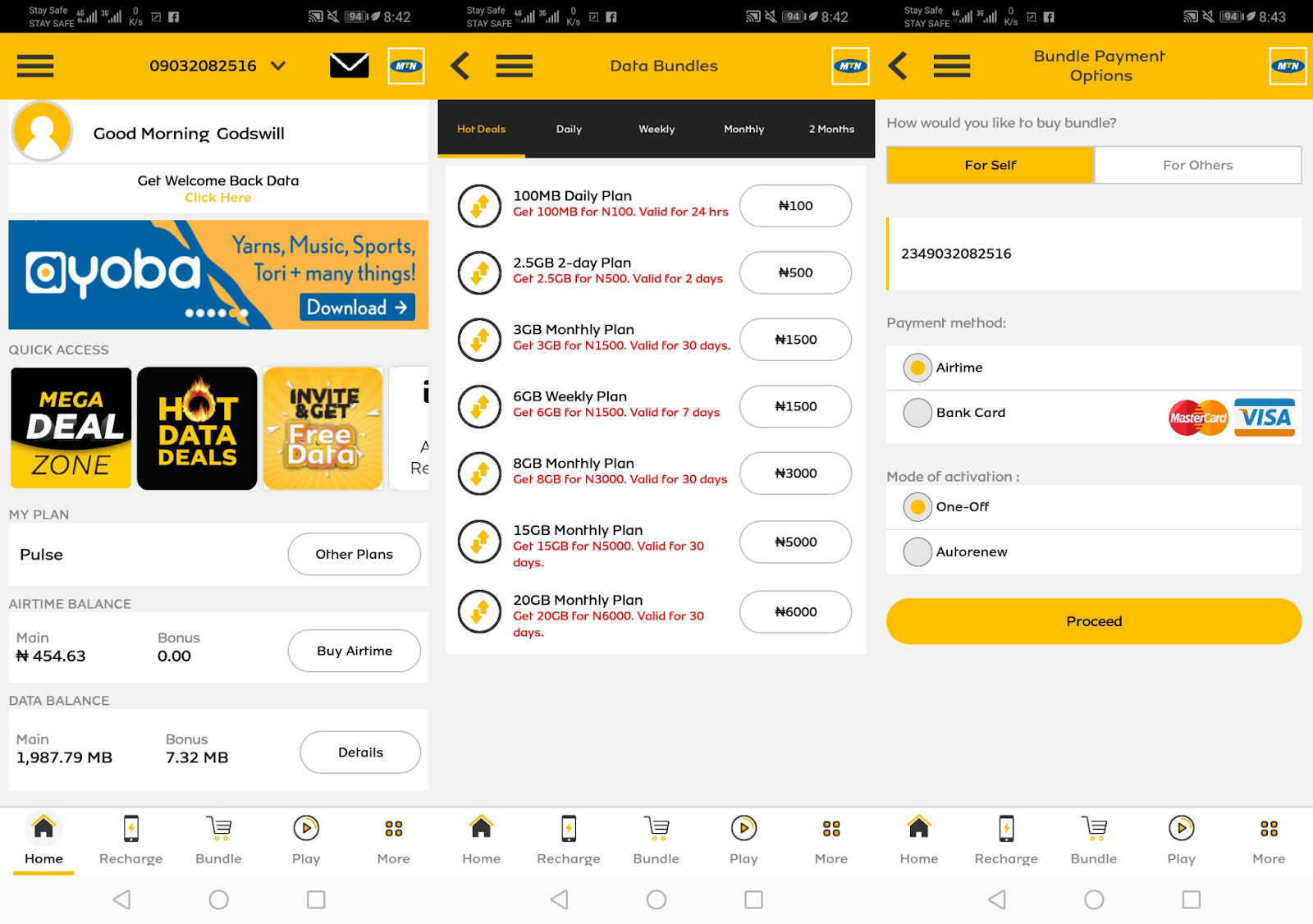 MyMTNApp
To subscribe using MyMTNApp,
Simply download and install MyMTNApp via PlayStore or if you already have it installed, skip to step 2.
On the home, tap on Hot Data deals
Select option for N500 for 2.5GB and proceed in making payment via bank or via your available airtime balance.
Once done you should dial *131*4# to check balance.
Note:
The N500 for 2GB and 2.5GB is valid for 48 hours (2days).

In conclusion, don't worry about the N500, if you do your calculations, you will notice this is far economical and wise than doing N1000 for 3Gb which gets exhausted in days.
Don't forget to bookmark droidvilla.com and follow us via subscribing to our newsletter to get notifications as we publish via mail.