Following the latest prompted terms and conditions issued by whatsapp as at Wednesday, users will lose access to WhatsApp after 8 Feb, unless the new terms and conditions on whatsapp is accepted by the user.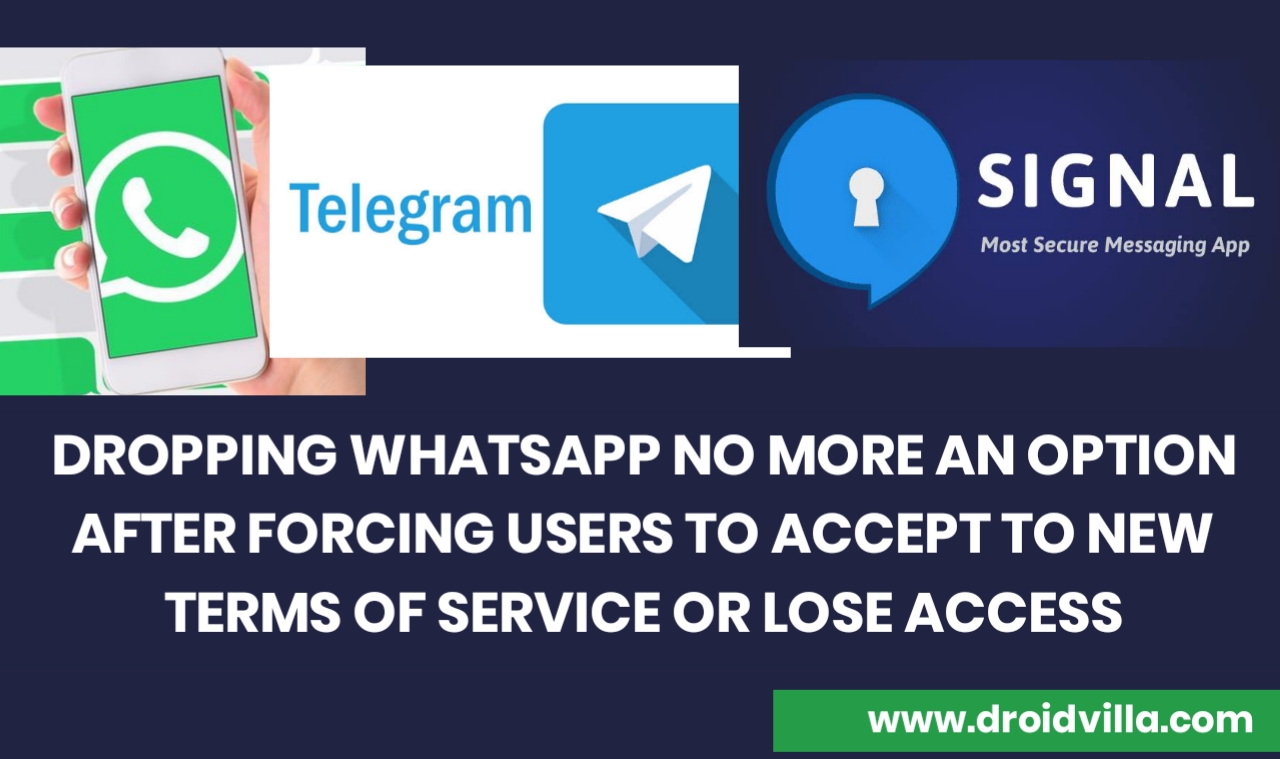 Whatsapp new terms of service – Use telegram or signal
Accepting the new whatsapp terms and conditions will allow sharing of your personal data, location, phone number, iP and other informations to Facebook database.
The new terms and services issued by whatsapp is aimed at forcing users to share personal data which includes phone numbers and location, with its parent company Facebook.
It was suggested by top CEO's (Elon Musk – Latest world richest man in the world after overtaking Jeff Bezos), stressing out that users alternatively move to a more encrypted messaging apps like
Signal
and
Telegram
for privacy sake.
The change was to allow businesses to store WhatsApp chats using Facebook infrastructure.–—WhatsApp spokesperson—–
WhatsApp, the said encrypted messaging app that portrait itself as a privacy-focused service, will start luring users to share personal data informations with Facebook, its parent company.
WhatsApp said users will have to agree to let Facebook and its subsidiaries collect WhatsApp data, including user phone numbers, contacts' phone numbers, location, and more. This was stressed out in an announcement sent out to users on Wednesday 6th Jan 2021.
The action initiated by whatsapp new terms of service prompted no second thought, rather for users to delete their WhatsApp accounts and switch to smaller encrypted messaging apps such
Signal
and
Telegram
.
Tesla billionaire Elon Musk was among those who recommended users switch services, simply tweeting: "use Signal."
Use Signal

— Elon Musk (@elonmusk) January 7, 2021
If you're looking at migrating out of WhatsApp, @signalapp is a very good option. Signal is developed under Signal Foundation which is a non-profit foundation. It is open source and peer reviewed. Same is not true with Telegram and other market offerings.

— Pratik Sinha (@free_thinker) January 8, 2021
WhatsApp will share its users' personal information, including phone numbers, IP addresses, contacts, & more with Facebook from Feb. 8, according to the new T&Cs. No opt-out. The only way to object is to leave the service & move to a service like Signal or Telegram. https://t.co/FbGcq5T3JB

— Mike Butcher (@mikebutcher) January 6, 2021
If you're a WhatsApp user, you'll have to share your personal data with Facebook from next month – and no, you can'… https://t.co/InU4SbUR4C

— The Register (@TheRegister) January 6, 2021