Before we get down to business, we would want to use this medium to appreciate all those who have been by our side all through this trying times. Starting from how we started and now, I must appreciate ypu all for your support.
We are hoping in receiving more supports and looking forward in doing more giveaways often.
Droidvilla.com is giving out free 1000mb to three (3) lucky winners in the share and win game starting from the 10th – 20th December 2019.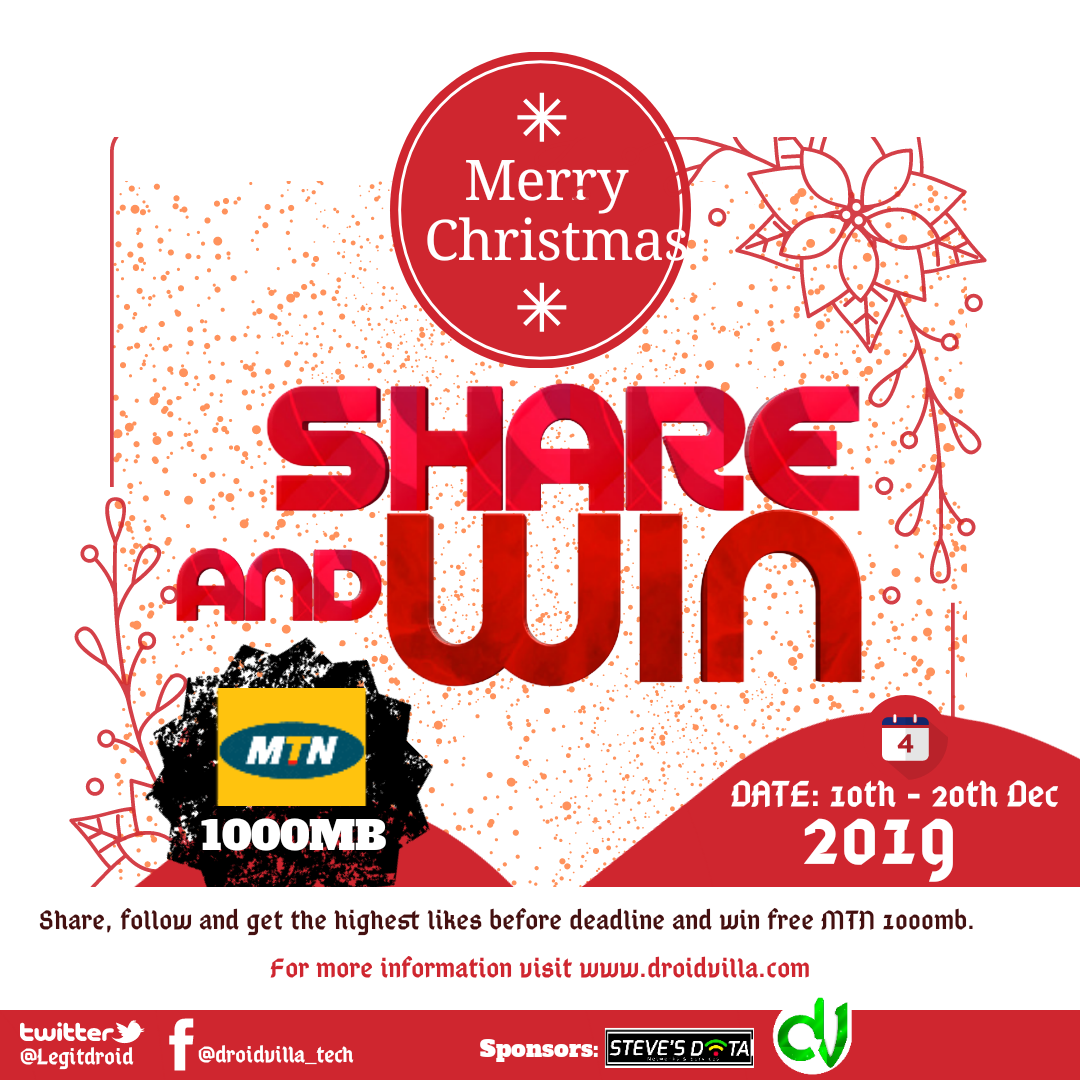 Share and win
It's not a surprise, just as we are known for ditching out data to our visitors on droidvilla.com and also on all our social platforms.
It's simple, we are running this on three platforms (Instagram, Twitter and Facebook). Meaning that, each platform will have just a winner 🥇.
So if you know you have good number of active folks on Facebook more than others, you can decide to share the post on Facebook.
For Facebook users follow guide below
You are to share this post to your facebook timeline directly from the website by using the share buttons below with a hash tag
#droidvillagiveaway.
Image 👇 👇 👇
Select Facebook icon
Facebook share
When shared successfully you can now invite your friends to like your post, share the post and comment for you to win.
For Twitter users follow guide below
You are to share this post directly to your Twitter account from the share button below with a hash tag
#droidvillagiveaway.
Twitter
For Instagram users follow guide below
You are to save the image to your device and post it on your Instagram account with a hash tag
#droidvillagiveaway
and don't forget to tag @
legitdroid
and @
droidvilla
to the post.
How will the winners be selected?
The winners will be selected based or Post likes, Shares and comments.
The minimum likes to qualify is 100
The minimum comments 30
The minimum shares/retweets is 20 (for facebook and Twitter)
Note that, the person post with the most likes, comments and shares/retweet will be the winner and would be announced 📢 on the 21st of December 2019 and data will be sent immediately winners are announced.
The hash tag #droidvillagiveaway would be used to track all posts during the share and win game.
Do ensure to use a Hashtag.
⚠️⚠️Also Note: Participation starts tomorrow 10th December..
If you have any query with the steps regarding the area you choose, feel free to comment below for support.
We are live on facebook HERE
We are live on Twitter HERE
We are live on Instagram HERE
Updates to be made available if necessary!!
Thank you