– How To Set WhatsApp Cover Photo For iOS and Android
Whatsapp latest update introduces Cover Photo, just as we have in the likes of facebook cover photo, twitter cover photo and LinkedIn cover photo…
Also Read: How to send image as document on whatsapp
---
Easy Way You Can Choose Photo Upload Quality On WhatsApp 2022
---
7 Proven Quick Ways To Fix WhatsApp Not Receiving Messages
Droidvilla Technology Solution noticed the whatsapp cover photo today, just after whatsapp business application was updated automatically via AppleStore.
How to set whatsApp Cover Photo size for Android and iOS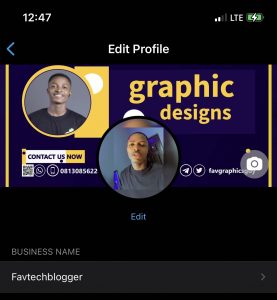 Setting up WhatsApp cover photo for Android and iOS is as simple as ABC.
All you have to do is to simply follow below steps below.
Update your WhatsApp Messenger App's to the latest version, either via Applestore or Playstore.

Settings to Set whatsapp cover photo size

Settings to Set whatsapp cover photo size

After successful update, tap on your profile icon or tap on settings.
Now tap on your profile and you should see your profile picture below and an empty cover photo space just right above the profile picture.
Tap on the camera 📷 icon at the whatsapp cover photo area and select any image/picture of your choice on your gallery.
Once found, tap on the image and crop photo to your desired area and hit the ok button to successfully set your WhatsApp cover photo.
Was that actually difficult to do?
I guess No! Kindly share this post to your friends and family members to let them get the latest whatsapp cover photo feature and also teach them on how to set their WhatsApp cover photo with ease.
What do you think about the new whatsapp cover photo update rolled out?
Share your thoughts with us via the comment section.
Ezoic account verification #230398
Do not forget to subscribe to our telegram channel for updates and also to connect with other droidvillians in your area.