Rumors sparked that Instagram's was about to introduce a " take a break " feature for the app in October. The social media app is recently confirming its plans for this new feature.
The "Take A Break" Feature
The news came from Instagram chief Adam Mosseri, who shared the news on Twitter. The "take a break" feature works exactly like it sounds, It allows end users to set time intervals before receiving a notification to leave the app
Users can seemingly choose between 10, 20, and 30 minutes as the time range for the notification to come on. When the timer runs out, a notification will appear on the users' screens to shut down the app.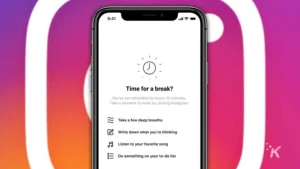 Mosseri said the feature would arrive on iOS and Android devices later this week. The feature could be generally available by December. Instagram for Kids was recently restricted following criticism from lawmakers.
Instagram has faced setbacks for some of its features, including algorithms that supposedly made teens sad. Last month, Meta (formerly Facebook) revealed its intentions to bring 'take a break' to Instagram.
During an interview with CNN's State of the Union, VP of Global Affairs at Meta, Nick Clegg said that the company would put systems in place to direct teens from content that "may not be good or educative to their well-being."
This move isn't new, considering the level of scrutiny on apps like Instagram and Facebook. While Meta is now aiming to focus on the development of its "metaverse," it's clear that some of the pertinent issues with its platforms won't stop working .
The social media Apps also faces allegations of inactivity, based on documentation provided by whistleblower Frances Haugen.
Moreover, the company stopped Instagram Kids due to the setback from lawmakers. A joint statement by House and Senate Democrats in September said – "Facebook has completely forfeited the benefit of the doubt when it comes to protecting young people online and it must completely abandon this project."
Despite the relative disappointments , Mosseri insists that having a kid-specific version of Instagram could be a great initiative. So we should be expecting the "take a break" feature soon, let's keep our fingers crossed.
Join Us On Telegram For More Exciting Updates