Getting messages from unwanted sources can be a major nuisance. Doesn't matter whether it's business related or someone who's bothering you, blocking text messages gives you peace of mind.
Most Android phones will have Google Messages as the default messaging app. And if that's the case, here's how to block text messages from someone texting you.
Steps To Block Text Messages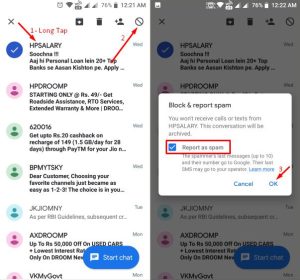 Step 1: Launch the Messages app on your phone and open the contact conversation you wish to block.
Step 2: Tap on the three-dot menu icon in the top right corner and select Details from the menu. Conversation Options or Conversation Details
Step 3: Under Options, tap on Block and report spam. If you don't wish to report the contact as spam, then uncheck the box that reads Report as spam.
Lastly, tap on OK. Once blocked, you'll no longer receive any text messages or calls from that particular contact.
Plus, your existing conversation with that contact will be moved to the 'Spam and blocked' folder.
Join Us On Telegram For More Exciting Updates